Rewards > Bingo Bonus Cash > £5 Bonus Cash at Dove Bingo
£5 Bonus Cash at Dove Bingo
Redeem now for 20000 PPTs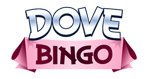 Redeem your Port Points now for £5 Dove Bingo, one of the newest boutique bingo sites in the UK, on the Wheel of Slots Network

If you haven't already joined Dove Bingo, click here to join before you request your redemption.

You will need to have an active account at the bingo site that you wish to redeem bonus cash for and you will need to provide us with your correct username in order for your bonus cash to be credited.

Bonus cash redemptions are processed every Thursday (if purchased by Wednesday night) and usually credited within 48 hours of processing.

You will need to have an active funded account at Dove Bingo, and have deposited at least £10 within the past 60 days to be able to claim a bonus.If you have recently claimed a £5 bonus for this site, you will need to have deposited at least £10 since your last claim to be able to claim another £5 bonus. If you redeem this bonus cash item after Midnight on Wednesday, you will not receive your bonus until the end of the following week. We request that you contact us only if you have not received your bonus within 10 days of redeeming.