Rewards > Bingo Bonus Cash > Rehab Bingo £5 Bonus Cash
Rehab Bingo £5 Bonus Cash
Redeem now for 20000 PPTs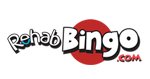 Rehab Bingo is the latest site to be added to the Bingoport Redemption's store. This well-known and well-loved site is offering you £5 free bonus cash* when you redeem 6,000 Port Points.

Rehab Bingo offers you the very best of gaming including weekly and monthly jackpots, which you could win for free with your £5 bonus!

If you want to redeem for £5 Bonus Cash, click Redeem Item.

*You must have made a deposit at Rehab Bingo to receive redemptions of bonus cash. If you're not yet a member click here to sign up today.

Please note: If you redeem a bonus cash item after Midnight on Wednesday, you will not receive your bonus until the end of the following week. We request that you contact us only if you have not received your bonus within 10 days of redeeming.