Bingo Diamond: A Review of Offers, Bonuses and Promos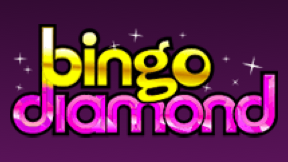 100% Bingo Bonus up to £100
Play Penny Bingo games in multiple rooms
Many progressive jackpots to win
Customer support is fantastic
New players only. Min deposit is £10. Bonus can be played on bingo only. Offer valid 48 hours after registration. Debit cards only. 3x bingo, 35x casino wagering required. Max bet £6.25. Game weighting applies. 2-day bonus expiry. T&Cs apply. 18+ BeGambleAware.org.
Bingo Diamond Review Intro
Bingo Diamond is a popular website found on Broadway Gaming's platform. It's a fun and cosy site, unlike bigger brands where players may feel like small fish in a big pond. It offers numerous bingo rooms, slot games, promotions, and rewards for loyal players. Broadway is a reputable company with a valid license from the UKGC, so you can trust the site. The welcome offer is simple, and players can enjoy different bonuses like bonus-back and special jackpots.
Our Bingo Diamond Review Score
We had a go at playing on Bingo Diamond so we could give you a thorough review of the site, its features, and our experience playing there. Take a look at our review scores for Bingo Diamond to see everything at a glance:
| | |
| --- | --- |
| Overall Score | 7 / 10 |
| Welcome Offer Rating | 6 / 10 |
| Existing Player Promotions Rating | 6 / 10 |
| VIP & Loyalty Rating | 7 / 10 |
| Product Rating | 7 / 10 |
| Branding Rating | 7 / 10 |
| User Experience Rating | 7 / 10 |
| Bingo Rooms Rating | 7 / 10 |
| Bingo Games Rating | 7 / 10 |
| Additional Games Rating | 7 / 10 |
| Mobile Rating | 7 / 10 |
| Responsible Gaming Rating | 8 / 10 |
| Jackpots Rating | 7 / 10 |
| Penny Bingo Rating | 7 / 10 |
| Payment Methods Rating | 7 / 10 |
| Depositing Rating | 7 / 10 |
| Withdrawing Rating | 8 / 10 |
| Customer Support Rating | 8 / 10 |
Bingo Diamond Pros & Cons
Looking for the important bits without going through the entire review? Get the summarized version here and discover what we enjoyed about Bingo Diamond, as well as areas that could be improved upon:
Play Penny Bingo games in multiple rooms
Many progressive jackpots to win
Customer support is fantastic
No free bingo available
There may be a fee for withdrawals under £20
The welcome offer is small
Bingo Diamond New Customer Welcome Offer
100% Bingo Bonus up to £100
New players only. Min deposit is £10. Bonus can be played on bingo only. Offer valid 48 hours after registration. Debit cards only. 3x bingo, 35x casino wagering required. Max bet £6.25. Game weighting applies. 2-day bonus expiry. T&Cs apply. 18+ BeGambleAware.org.
Bingo Diamond Offer Breakdown
The welcome offer from Bingo Diamond is incredibly easy to understand. Simply deposit £10 or more for the first time, and you'll receive a 100% bingo bonus match, with a maximum limit of £100. That's all there is to it! Just keep in mind that you have 48 hours to claim the offer after registering, so don't miss out. Also, remember that the offer is only available if you deposit using a debit card. The bingo bonus has a wagering requirement of 3x, which is actually quite fair, especially for a first deposit offer. Typically, these types of offers have higher wagering requirements than others.
Bingo Diamond Welcome Bonus Our Verdict
The Bingo Diamond welcome bonus is alright, but it's not the most exciting we've seen. Alternative sites to Bingo Diamond offer bonuses as high as 500% for the first deposit, sometimes even with free spins included. In comparison, Bingo Diamond's 100% match doesn't stand out as the biggest bonus but they run a good bingo operation nonetheless.

However, Bingo Diamond has plenty of other things to offer besides a flashy welcome offer. So, if you're not too concerned about massive bonuses, Bingo Diamond could still be a great choice for you.

Alternatively, if you like this offer, Bingo Diamond's sister sites offer a chance to enjoy a similar welcome bonus across an array of alternative sites on the same platform. You'll get a slightly different theme, but the bonus of another welcome offer to explore.
Bingo Diamond Welcome offer rating: 6 / 10
Using The Bingo Diamond Welcome Bonus
1. Head over to Bingo Diamond and click on 'Sign Up'
2. Enter your personal details, such as your name, address, date of birth, and so on
3. On page 3, choose your username and password
4. If you want to take advantage of the welcome bonus on your first deposit, make sure to tick the box saying you want it
5. After making your first deposit, you can claim the offer

Bingo Diamond Welcome Bonus Terms
New players only. Min deposit is £10. Bonus can be played on bingo only. Offer valid 48 hours after registration. Debit cards only. 3x bingo, 35x casino wagering required. Max bet £6.25. Game weighting applies. 2-day bonus expiry. T&Cs apply. 18+ BeGambleAware.org.
New players only. Min deposit is £10. Bonus can be played on bingo only. Offer valid 48 hours after registration. Debit cards only. 3x bingo, 35x casino wagering required. Max bet £6.25. Game weighting applies. 2-day bonus expiry. T&Cs apply. 18+ BeGambleAware.org.
Bingo Diamond Free Bingo & Newbie Rooms
Bingo Diamond doesn't offer free bingo, unless you consider the bingo bonus as such. There are no rooms that provide free tickets, which is unfortunate. While there is penny bingo available, if your intention was to play for free, Bingo Diamond may not meet your expectations.

Newbie Rooms

Unfortunately, Bingo Diamond doesn't have a specific room for new players. Once you make a deposit, you'll have access to all of Bingo Diamond's rooms, but there isn't a room exclusively dedicated to beginners. This might be disappointing, but it's not necessarily a dealbreaker. Many newbie rooms are only available for a limited time, typically around 3 days.


More Bingo Diamond Welcome Offers
Bingo Diamond offers only one welcome offer, which grants a bingo bonus. This could be a downside for players who prefer slots. However, once you begin playing, there are other promotions tailored for slots players. It's worth noting that Bingo Diamond doesn't go in for too many slots promotions in general; its primary focus is on its bingo product.
Bingo Diamond Technical Specifications
| | |
| --- | --- |
| Site Name | Bingo Diamond |
| Software | |
| Welcome Offer | 100% Bingo Bonus up to £100 |
| 1st Deposit Bonus | 30,000 pts |
| No Deposit Bonus | None |
| Free Bingo | No |
| Promotions | Yes |
| Min. Deposit | £10 |
| Min. Withdrawal | £0.01 |
| Deposit Methods | |
| Established | 2010 |
| UK Gambling Commission | License number 39075 |
Bingo Diamond Review: Existing Player Promotions
Bingo Diamond features a promotions page where you can find the newest offers. Although there aren't many promotions available, there are a few to check out. If you're a fan of numerous bonuses, free spins, competitions, and more, you might not find enough promotions to keep you happy on Bingo Diamond. Nevertheless, if you enjoy a small additional treat while playing, there are a few nice offers to consider.
Bonus Back. Don't miss out on Thursdays! Opt in and receive 10% bonus back, up to a maximum of £10, on your losses (of £10+).

JPOT2GO. Don't miss our weekly event in the Broadway room, where you can win an extra guaranteed £1K jackpot on top of the usual prizes.

Super Heavy Weight. Saturday nights are filled with excitement in the Super Heavy Weight bingo game, where you can compete for £3000 in prizes.

These promotions were all correct at time of writing, although do bear in mind that offers change.
Bingo Diamond Existing Player Promotions rating: 6 / 10
Bingo Diamond Review: VIP & Loyalty
The reward scheme at Bingo Diamond is truly impressive! You can earn points in various ways: depositing (£1 = 15 points), playing bingo (£1 = 5 points), and playing casino games (£1 = 1 point). Your points accumulate over 30 days and are then added up. The more points you collect, the higher you climb in levels, and the rewards become even better! Starting from Level 1, there are rewards available, such as free spins and bonuses. However, some rewards may have additional requirements, like making a deposit within the past 7 days. The rewards keep increasing as you advance through the levels. For example, Level 1 players may receive 5 free spins or a 10% bonus up to £50, whereas Level 5 players could enjoy 50 free spins or a 50% bonus up to £100.
Bingo Diamond VIP & Loyalty rating: 7 / 10
Bingo Diamond Product Review
Bingo Diamond is really easy to navigate. Everything is clear, with separate links for bingo, slots, promotions, and help in the menu. The bingo rooms are available 24/7, and slots are always there to enjoy, so you'll always have something to do on the site. The bingo rooms are generally quieter than the bigger sites, with around 20 players most of the time. But don't worry, evenings and weekends tend to be busier. The ticket prices range from 1p to 20p, so they're very affordable. Unlike some other sites that charge £1 or £2 per ticket for special rooms, Bingo Diamond keeps it budget-friendly! Once you've joined and claimed your first deposit bonus, make sure to check out the promotions page! You might find an offer that catches your eye, and many of them are tailored for specific days, so it's worth logging in daily.
Bingo Diamond Product rating: 7 / 10
Bingo Diamond Branding Review
The design of Bingo Diamond is quite simple and straightforward. The colour scheme includes pink, purple, and yellow, which looks really nice. Unlike many other sites, when you visit the homepage, it's clean and uncluttered, with only the welcome offer and the sign-up box on display. There are no slot games or flashy promotions everywhere you look. As you scroll down the page, you'll find reviews and a few screenshots of the site in action, but that's pretty much it. The homepage has a minimalist style, and personally, we found it appealing! It allows players to explore the site at their own pace without bombarding them with too much right away. Bingo Diamond has a sparkly, glittery look, and overall keeps things clean and simple.
Bingo Diamond Branding rating: 7 / 10
Bingo Diamond User Experience Review
Bingo Diamond has a somewhat generic appeal that will suit some players but not everyone. It's really easy to find your way around the site as everything is exactly where you'd expect it to be. However, experienced players may not find anything particularly unique about Bingo Diamond that they couldn't find elsewhere. Nevertheless, it's a nice bingo site with plenty of games and jackpots to keep players entertained. The bingo lobby is simple, with all the rooms conveniently located in one place. You can also use filters to toggle the Specials rooms on and off. The slot games are equally easy to navigate, allowing you to browse through all the games, focus solely on slots or scratch cards, or explore the 'Top Lists' which include small groups like 'most popular' and 'new'.
Bingo Diamond User Experience rating: 7 / 10
Bingo Diamond Rooms Review
During our playtime at Bingo Diamond, there were a total of 13 rooms available, although a few of them were marked as 'Specials' and only open on certain occasions. Out of the 13 rooms, 8 were dedicated to bingo games scheduled to take place on the same day as our play session, and 7 of them had games happening every few minutes.

It's worth noting that you can also prebuy tickets for upcoming games, which is a nice feature for players who like to plan in advance. Additionally, the rooms at Bingo Diamond are linked with other Broadway Gaming sites, offering a connected experience.
Bingo Diamond Rooms rating: 7 / 10
Bingo Diamond Best Bingo Rooms
Want to know which bingo rooms at Bingo Diamond were the most fun? Let's find out our top choices and why we enjoyed them. Get a glimpse of what you can expect when you play on Bingo Diamond!

The Jackpot Room - This room offers big prizes, with a jackpot of around £70 and 66 players when we played. There's also a progressive jackpot worth nearly £8K!

Zoom Room - If you like fast-paced action, the Zoom Room is for you. It's a 30-ball bingo game that costs just 3p per ticket. Games start every minute and a half, so get ready for quick rounds of excitement!

Boombox - Join the Boombox room for 80-ball bingo fun. Tickets are priced at 3p, and games run every few minutes. It's a classic 80-ball format with 5 columns and 25 numbers. The prizes vary based on the number of players in the room.

Enjoy the thrills of these fantastic bingo rooms at Bingo Diamond!
Bingo Diamond Chat Review
Bingo Blast - This room was almost empty when we played, so it was quite quiet. Maybe it gets more lively when there are more players, but for us, it was pretty quiet. Thankfully, the bingo games were still enjoyable!

Broadway - People were having a little chat here, congratulating winners and getting excited when they only needed one or two numbers left to win. But there wasn't much conversation about things other than bingo.

The Jackpot Room - This was the busiest room by far, and a few players were chatting about TV shows when we played. It was nice to see everyone saying "WDW" and "WTG" when someone won the jackpot.

Drop Pots - There were a few people in this room, but not many were chatting. Maybe everyone was too focused on the jackpots! It was a good game to play, but if you like to chat, it might be a bit quiet in here.
Bingo Diamond Games Review
Bingo Diamond offers a good range of games, considering it doesn't have a huge number of rooms. You can find mostly 90-ball bingo, as well as 75-ball, 80-ball, and 30-ball games. It's a nice selection that can compete with bigger brands in terms of choice. The majority of rooms are dedicated to 90-ball games, each with different prizes and ticket prices.
80-Ball
If you fancy playing 80-ball bingo, head over to the Boombox room. It's played on a 5x5 grid where every square contains a number. Prizes can be won by completing columns or specific patterns.

75-Ball
For a USA-style bingo experience, try the 75-ball games. It also follows a 5x5 grid, but with a blank free space in the middle square. Prizes are usually awarded for completing a full house or achieving specific patterns or shapes.

30-Ball
If you're up for some fast-paced bingo action, join the Zoom Room for 30-ball bingo. With only 30 balls in play, games move quickly, and you'll usually hear the word "bingo" within a minute or so. It's perfect for those who enjoy quick and exciting bingo games.
Bingo Diamond Games rating: 7 / 10
Bingo Diamond Jackpots
The jackpots on Bingo Diamond are quite good for a smaller site. Although the prizes in the bingo rooms aren't huge, they do get bigger when more people join in. In addition, there are progressive jackpots in six of the bingo rooms, with prizes reaching thousands of pounds. Keep an eye out for the Heavy Weight and Super Heavy Weight events, as they bring extra jackpots to the bingo games.
Bingo Diamond Jackpots rating: 7 / 10
Bingo Diamond Penny Bingo
While there isn't a dedicated penny bingo room, you might come across penny games in some of the regular bingo rooms at Bingo Diamond. Both Boombox and Zoom Room offer 1p ticket games. It's a bit of a mixed bag when it comes to penny bingo on Bingo Diamond, so you'll have to keep an eye out for those games during your play.
Bingo Diamond Penny Bingo rating: 7 / 10
Bingo Diamond Side Games Review
Unfortunately, Bingo Diamond doesn't provide any side games within the bingo rooms. If you're looking to play slots or other games, you'll have to navigate to the slots page separately. This means you'll solely be focused on bingo during your time in the bingo rooms, which may be disappointing for those seeking additional gaming options.
Bingo Diamond Slot Games Review
If you're a fan of slot games, Bingo Diamond has a nice selection with over 300 titles to choose from. Although it may not offer as many options as some of its competitors, you'll still find popular slots available. The site regularly updates its collection, introducing new games to keep things interesting. In addition to slots, Bingo Diamond also provides scratch card games for some extra fun. You can easily navigate through the game categories, whether you want to explore all the options, stick to slots, enjoy scratch games, or discover the latest and most popular games in the Top Lists.
Bingo Diamond Top Slot & Games
Mustang Gold
Saddle up for this Western slot filled with horseshoes, cowboys, and graceful mustang horses. The golden horseshoe is the money symbol, and if the Collect symbol lands on reel 5, you will win all money symbol values shown on the board. Plus, land 3 campfire symbols anywhere to trigger 8 free spins.

Thunderstruck II
Matching symbols can be anywhere on the reel as long as they are on at least the first three reels. The Thunderstruck II logo is wild, and Thor's hammer is the bonus symbol. Three or more bonus symbols will trigger the Great Hall of Spins bonus round. Each time you access the bonus round, you'll work towards unlocking the next level.

99 Time
A jolly day out to the seaside is in order, as well as some wins of course! Spin the reels full of colourful whippy ice creams, and look for a win across 25 paylines. Trigger the Ice Cream Maker feature by getting three 'Ice Cream Man' symbols anywhere on the board, and get free spins when you get three or more van symbols.

Divine Diamonds
Electric style and a classic look give this 5-reel slot some traditional casino vibes with bars, 7s, and cherries in addition to diamonds on the reels. Land 3 or more scattered diamonds to bag a cash prize (up to 2,000x your bet!), or get 3 or more Free Spins scatters to launch the free spins wheel which decides your free spins and multiplier.
Bingo Diamond Additional Games rating: 7 / 10
Bingo Diamond Mobile and App Review
Bingo Diamond may not offer a dedicated app, but you can still enjoy playing on your mobile device. Just open your browser and visit the website. To make it even more convenient, you can bookmark the site or create a shortcut on your device's home screen. When you access Bingo Diamond on your smartphone, the mobile version of the site will load. Despite the smaller screen size, you'll still have access to the same games and offers as the desktop version. The mobile site is designed to provide a similar experience, ensuring that you can enjoy Bingo Diamond wherever you go.
Bingo Diamond Mobile rating: 7 / 10
Bingo Diamond Responsible Gambling
At Bingo Diamond, they prioritise player safety and responsible gambling. To help players maintain control over their finances, they offer a selection of Safer Gambling Tools. Additionally, they have joined forces with GamStop, a platform that provides assistance and information to those in need. If players wish to take a break, they can choose self-exclusion, which involves closing and blocking their account for a minimum of 6 months up to 5 years. By self-excluding through GamStop, the exclusion applies to all UK online gambling companies. Bingo Diamond is committed to providing a safe and responsible gaming environment, and offers these tools:

Self-Assessment – Answer questions to assess your gambling habits and receive guidance on how to improve them.

Activity Statements – View detailed breakdowns of your gameplay and financial activity on the site.

Affordability Calculator – Use this calculator to understand your spending patterns and determine if your budget is reasonable.

Session Reminders – Set up pop-up notifications to remind yourself to take regular breaks every hour.

Deposit Limits – Set and apply limits to your account to help you manage your budget effectively.

Take a Break – Temporarily close and lock your account for any duration between 1 day and 4 weeks.

Self-Exclusion – Close and lock your account for a period of 6 months to 5 years as a measure to promote responsible gambling.
Bingo Diamond Responsible Gambling rating: 8 / 10
Bingo Diamond Banking Review: Available Payment Methods
Depositing money on Bingo Diamond is simple and secure. You can choose from several payment methods, although they don't support less common options such as Bitcoin or EcoPayz.
Available Payment Methods:
| | |
| --- | --- |
| Money Bookers / Skrill | |
| Maestro | |
| Visa Electron | |
| Visa | |
| Master Card | |
| Neteller | |
| Paysafe card | |
| Switch | |
Bingo Diamond Payment Methods rating: 7 / 10
Bingo Diamond Banking Review: Depositing
When it comes to payment methods, Bingo Diamond offers a good range. You can use debit cards, PayPal, Paysafecard, and other options. They prioritise reliable and trusted methods, giving players peace of mind. The minimum deposit amount is £10, which is fairly typical.
Bingo Diamond Depositing rating: 7 / 10
Bingo Diamond Banking Review: Withdrawals
When it comes to withdrawals on Bingo Diamond, you can use any payment method except Paysafecard. To prevent money laundering, you must select the same method you used for depositing when making a withdrawal. While there is no minimum withdrawal requirement, withdrawals below £20 will incur a £2 fee. For those using Visa Debit, the Express Withdrawal option is available if your bank supports. This allows for faster processing, typically within one day- which is very impressive!
Bingo Diamond Withdrawing rating: 8 / 10
Bingo Diamond Customer Service Review
The customer service provided by Bingo Diamond is top-tier. Their help pages contain an extensive collection of answers, and you can conveniently search for info using the search bar. Should you need more support, you have the option to email them at support@bingodiamond.com or hop on the live chat for instant help. When we tried the live chat, we were connected in just a minute, and the support agent was quick in addressing our concerns.
Bingo Diamond Customer service rating: 8 / 10
Bingo Diamond Available Support
Conclusion
In many aspects, Bingo Diamond can be considered quite average. It offers a decent variety of slot games and bingo rooms, alongside a few enjoyable promotions and a pleasant pink and glittery colour scheme. However, its true strength lies in its exceptional customer service, featuring a vast FAQ section and a helpful live chat option.
Bingo Diamond Overall rating for Bingo Diamond: 7 / 10