Published: | Last Updated: | Reviewed By: BingoPort.co.uk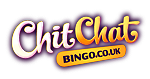 300% Bingo Bonus up to £100 + 10 Free Spins on Fluffy Favourites
* **Maximised reward available only to members who have joined ChitChat Bingo via a Bingoport link.
** when you deposit and wager £10 or more between Monday March 26 and Sunday April 1 at ChitChat Bingo**
Terms and conditions apply. See the site for full details
ChitChat Bingo is our mecca of choice for thrilling bingo games and casual banter. From its lavish array of bingo jackpots to the latest slot games, we're hard pressed to walk away from ChitChat Bingo without taking it for a turn. The whopping welcome bonanza is bound to catch your eye too. Not many other sites offer a juicy combo of bingo tickets, spins and free cash!
Welcome bonus package
Grab a 300% Bingo Bonus up to £100 Bonus plus 10 Free Spins on Fluffy Favourites and as an exclusive for BingoPort Members, receive 90 Seconds of Free Spins on Fire Vs Ice Slot.
Pros
Over 300 slots on a single site!
One of the biggest welcome bonuses around
Many players online at any one time, since its rooms are networked
Cons
Promotions are not unique to the site
Free spins limited to one game—Fluffy Favourites
Bottom Line
The proof is in the pudding when it comes to just how good ChitChat Bingo is. Well, the games are really as exciting as any other online bingo site. Yet, ChitChat's bingo rooms are always full of people to hang out with, making it more cosy than usual. Its promotion calendar is always packed to the brim too, so you can always enjoy extra to play with. By the time you tack on a few promo codes to your deposit, you'll wonder why anyone would play anywhere else.
In depth
Banking
Placing Deposits
Debit and credit cards (Visa, MasterCard, Maestro)
Entropay
Little tip: always enter the day of the week to redeem the promotion of the day. For example, if you're depositing on a Monday, enter promo code: MONDAY and you'll automatically receive the day's little prize. These range from free spins, extra cash to play with and some free bingo tickets too.
Making Withdrawals
ChitChat Bingo has years of experience in this department. Their customer care team promises to process all withdrawals within 48 hours of receiving your request. Then, they'll hand the request over to the bank, who'd credit real money into your real account. Feel free to splurge on any real-life luxuries.
Games
You'll be blown away by the sheer number of games available on ChitChat Bingo's site. There are more than five bingo rooms open at any time of the day and even more during peak hours; offering both 75-ball and 90-ball bingo, a wide range of jackpots and free games too. On top of that, there are over 300 slot games and a nice selection of table games too! Sometimes, you head to the site just wanting to play two bingo games, but end up staying for 20 minutes.
ChitChat Bingo has curated a lovely collection of games to cater to every player's tastes and preferences. For example, newbies could dip their toes into cuddly Fluffy Favourites; adrenaline-loving junkies would love Motorhead slot or even a round of Roulette! Of course, everyone loves free games. ChitChat Bingo runs free games daily at all day long, every 8 minutes!
Promotions
ChitChat Bingo hosts the mega-popular Sure Win bingo game, a promotion that has made its rounds on the UK online bingo circuit and gathered a large following of fans. As you can tell from the name, every player is guaranteed a win. Not a single player will walk away from the game without a cash prize. Basically, ChitChat Bingo splits the prize pool is split between everyone in the game. There's £1,000 for the FH winner, £600 to the 2Line winner, £400 to the 1L winner and the remaining £500 amongst every single ticket owner in the game.
The Late Night show also attracts a sizeable crowd of players. This game runs at 12.30 am daily, with £100 of real money prizes at stake each night! However, you'll want to schedule your day perfectly to attend this game. The Late Night Show only accepts 75 players per night and tickets are only sold 15 minutes before the game begins. This way, all players stand a chance of winning the jackpot without being overwhelmed by other players.
The third-best promotion is called The Weekender, which is reserved for the more serious players (defined by players who deposit £50 in single deposit, in the last 6 days before the promotion). Should you qualify for this exclusive bunch of players, you can compete for £700 worth of prizes each weekend. These games run every Friday to Sunday, at 6pm, 8pm and 10pm.
Once in a while, the site runs seasonal promotions. For example, there was a Schools Out! raffle game that gave away summertime essentials like a hammock and a portable BBQ set. When new games launch, there are free spin giveaways to promote the game. When this review was written, ChitChat Bingo gave away 32,000 free spins in a single month!
Performance
ChitChat Bingo is designed by a software company called Cassava Enterprises, who have set up and operated countless bingo sites before this one. As a result, players can play on the most well-oiled engine there is. By that, I mean that the site employs a top-notch security system, sleek user interface and glitch-free gaming engine.
Support
Email: help@bingosupport.org
Phone: 0800 901 2510 (9am to 1am, daily)
Online Chat: Available in every bingo room, 24/7
Extra features
VIP
While ChitChat Bingo is best known for its weekly promotions, what players don't usually realize is how lucrative the loyalty program is. You may have your eye on the special jackpot while your loyalty points slowly rack up in the background. The more you play, the more points you earn. Then, when you least expect it, the site will pop by with free bingo tickets, free spins, cash back, deposit match bonuses and more! (Learn more about player rewards that you're eligible for with Bingoport.)
Community and Social Media
As you can probably tell from its name, ChitChat Bingo is the haven for chatters. Each night, hundreds of players gather online in its bingo rooms to gossip, prattle, babble and rattle about their day and the site's upcoming bonuses. The lovely chat hosts also do their part in keeping the party going by organizing frequent chat games, complete with cash prizes! The site is quieter on social media channels, with only a Twitter and zero presence on Facebook or Google Plus.
Final comments
ChitChat Bingo is equal parts high-powered excitement and laid-back relaxation. You can find exciting volatile slots alongside leisurely rounds of free bingo; life-changing jackpots displayed next to daily fiver prizes; serious players in one room and casual newbies in another. No matter what you value, there is bound to be something about ChitChat Bingo that draws you in. It's just like eating at a food truck—one should always flock to the seller with the biggest crowds. In this bingo marketplace, everyone else is heading to ChitChat Bingo, so you should too!

If you love ChitChat Bingo, why not try: