Earn the following when you play at Slingo
Receive 10,000 Port Points when you join and make your first deposit at Slingo
**Maximised reward available only to members who have joined Slingo via a Bingoport link. Standard reward is 0 Port Points.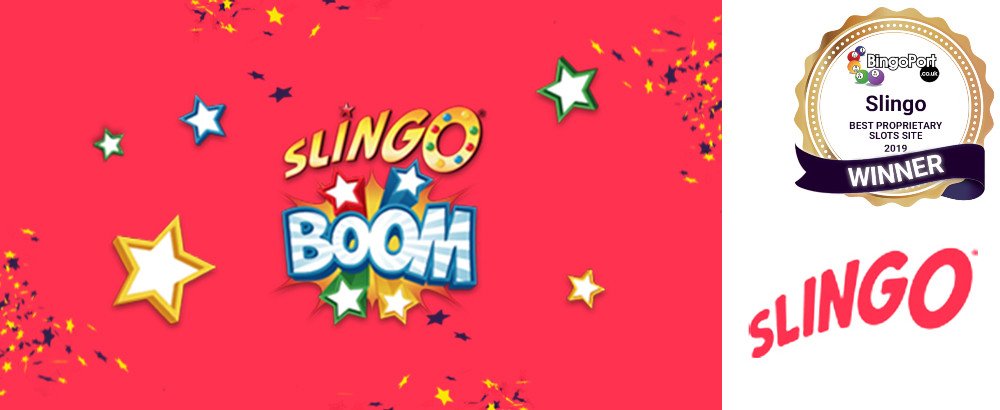 Torn between bingo and slots? Now there's no need to choose. For the best of both worlds, try Slingo. This ultimate combination game has become increasingly popular in recent years, and appears on a number of different bingo and casino sites.
But where better to play than on a site so dedicated to the very game, that both its name and entire theme were inspired by it?
Welcome bonus package
Ever heard the expression that 'nothing in life is free'? Well, that's not strictly true.
At Slingo, you can claim one stage of the welcome bonus without spending a single penny! Simply add a credit or debit card to your account and you'll receive £5 Bonus Cash!.
Then, of course, you are likely to want to spend on site at some point. Not least because Slingo is so addictive. And when you do, Slingo will give you even more: deposit at least £10 and you'll receive a 300% bonus up to £150! Note that you must make the payment through certain specified means. Debit and credit card deposits are both eligible, or you can check out our pay by mobile guide to get the lowdown on another easy method.
They'll also send 100% FREE your way as soon as you make your second deposit - up to £50.
Make sure you sign up through BingoPort (make sure you're logged in, then click here), where you'll receive tonnes of Port Points—see what you can spend them on in our rewards store.
New customers to Bear Group casino sites only. Varying wagering requirements apply. Slots 60x, Slingo 60x, Booms 8x. Transfer Cap: £30. Further T&Cs apply.
Pros
Get part of the welcome bonus without spending a penny
Huge selection of games
Impressive VIP benefits
Cons
We'd love to see more promotions
Few banking options available
Bottom Line
This is a hugely fun brand that does a great job looking after its players; we're particularly impressed with the variety of games on offer, Slingo's loyalty rewards and the refreshing simplicity of the site.
In depth
Banking
Placing Deposits
While many sites have a whole range of banking methods available, Slingo have decided to accept only 3 of the most popular:
Debit card
Credit card
Pay by mobile phone
Making Withdrawals
Withdrawals are provided by bank transfer, so the money goes straight into your account. The more you play, the quicker you can access funds—VIPs benefit from 'priority' withdrawals, while for VIP Platinum members, this is upgraded to 'express'.
Games
The site might be named after one particular game, but that doesn't mean there's not a wealth of variety available on site. Not only is Slingo on offer, but you'll also find a full range of slots, casino games and instant win jackpots.
Slingo
Like bingo, but better—because it's quicker, more exhilarating and fulfills your slot obsession (after all, even the weirdest slot games are great fun) all at the same time.
Just like bingo, you'll start with a grid. Instead of a bingo caller however, your fate is determined by a series of spins. If any of the numbers that appear on each spin correspond with those on your grid, they'll be marked off. You get to call 'Slingo' when 5 squares in a row have been struck—vertically, horizontally or even diagonally. For an extra adrenaline rush, some games specify a particular line or pattern that must be completed.
Slingo.com have developed the game into a must-play. From Slingo Boom—the multiplayer extravaganza, where you can chat as you watch the communal reels—to Slingo Extreme—a super-quick version of the game, with a massive £50,000 jackpot and 11 chances to spin—there really is something for everyone.
Deal or No Deal Slingo is a particular favourite of ours. Just like in the TV show, you first pick from 26 red boxes. The remaining boxes form your grid, and from there you start to spin.
4 'Slingos' will unlock the Banker's offer. Should you accept the offer, the game will automatically end. Opt for 'No Deal' to open your own box, or gamble on the remaining boxes by continuing to spin. After all, 5 or more 'Slingos' will increase your multipliers. With a jackpot of up to £100,000 it's all to play for—will you beat the Banker?
Slots
We know as well as anyone that when you've done some spinning, you'll want to do more. And for the record, we're definitely not talking about the ultra high intensity workout performed on an exercise bike. No, what we mean is slots. Slingo may have whetted your appetite, but if you can't get enough of the rush, there's a whole myriad of other slot games to try out.
On Slingo, you'll find you're spoilt for choice—there are just so many different variants to look through! But don't forget that part of the welcome offer is 50 free spins, which will allow you to try out a good number of the games without spending a penny.
Once you have the feel of the themes, play with cash to join cowboys in the Wild West in Dead or Alive, kick 'some serious super-villain butt' with Agent Jane Blonde, or see what Ancient Egypt has in store with all-time classic, Cleopatra. If you're a cat lover, you can even enjoy furry fun by playing Kitty Glitter—and remember to check out our blog for more cute kitties.
Casino
It seems Slingo has it all. Not only are there are all the traditional casino games you'd expect on a site of this calibre (blackjack, roulette and poker), there are also fun variations to keep things fresh. With 3 Wheel Roulette, you've got 3 times the chance to win, each and every time you spin. Or, if you're feeling especially bonkers, try out Ten Play Video Poker. 9 poker tables and the option to play multiple hands at once… this game is sure to keep you on your toes.
Instant Win
If you're in need of a quick boost, head to the Instant Win section of the site. There's Keno, the fantastic matching game—simply choose 8 numbers, then hit 'Draw'. All you need is for 3 of your numbers to come up, and you've bagged yourself a prize. Or, if you're going for a really big win, dig for treasure with Diamond Red—there's up to £150,000 up for grabs!
And great news for bingo purists—Slingo hasn't forgotten you! Bubble Bingo gives the game an underwater vibe—when the bubble machine starts spitting out numbers, complete any one of the patterns shown to win. And if 'instant' isn't quick enough for you, you can always set your fins going on 'TURBO' speed.
Promotions
Slingo's promotion selection is limited, but it's still worth taking advantage of those offers that are available. Alongside the 2-stage welcome bonus, there is also a Slingo Boom party room—enter to play for free. Games start every 15 minutes between 8am and 8pm—you could play all day if you wanted! But hurry, this offer is on for a limited time only (although we're sure it'll be replaced with another promotion when it goes).
Performance
With fast loading times and high quality game development, you can expect a largely glitch-free playing experience... every player's dream. The site is extremely well designed; whether you're tech-savvy, or just getting started, you'll find it easy to navigate and enjoy.
Mobile
When it comes to playing on mobile, there's no denying the quality of this site. And don't just take our word for it—Gaming Realms, the company who built and run slingo.com—recently won in the Mobile Casino Product category at the EGR 2016 Operator Awards. The prize goes to the company who have developed the most innovative products and made the biggest impact on mobile e-gaming in the previous 12 months. In other words, they know what they're doing!
To take full advantage of Gaming Realms' expertise, it's well worth heading to the mobile version of the site. Simply log into your Slingo account as usual and you'll find all your favourites: speciality Slingo, casino games and all the slots you could ever desire.
Support
You can contact Slingo's helpful team of trusty advisors between 9am and 11pm, any day of the week.
Phone: 01590 700050
Email: help@slingo.com
Live Chat: Find this in the bottom right hand corner of your screen, or go to the 'Contact Us' page and opt to 'Start Live Chat'.

VIPs have access to exclusive support staff, with a dedicated email address and account managers on hand.
Extra features
VIP Scheme
Play like a VIP; get treated like a VIP—that's how things work at Slingo. There are 2 stages to the scheme—VIP and VIP Platinum. Your level depends on the amount you deposit and spend on site each week, so, even if you've had a bit of a break, you can still progress back to VIP status very quickly.
The good folk at Slingo will let you know as soon as you're part of the club, whereupon you'll be rewarded with bonus cashback (10%), priority withdrawals and VIP support staff, ready to answer every question and solve every issue.
And if that sounds great, it gets even better when you hit Platinum. You can tell it's exclusive when you have to receive a special invitation just to join the party. Then there are the benefits: real cashback; express withdrawals; events to attend; a dedicated VIP account manager; even a birthday gift!
At both levels, too, there are special promotions available. And when you find out what promotion winners have recently received—Adele tickets; a day at the races; a top-of the range iPad air—you realise just how serious Slingo is about keeping their customers happy.
Final comments
The site may be fairly new (it was only launched in 2016) but it is already making quite an impact in the bingo and gaming world. With a huge selection of games on offer, and experts Gaming Realms behind the development, it's been a very exciting few months for Slingo—and we're sure there's more to come!
Although we'd love to see a few more promotions (we're promised that these are in the pipeline), we're thrilled with the perks already available on site, just as soon as you hit VIP level.
All in all, we're happy to report that Slingo is a site we can thoroughly recommend.
If you love Slingo, why not try:
Member Reviews