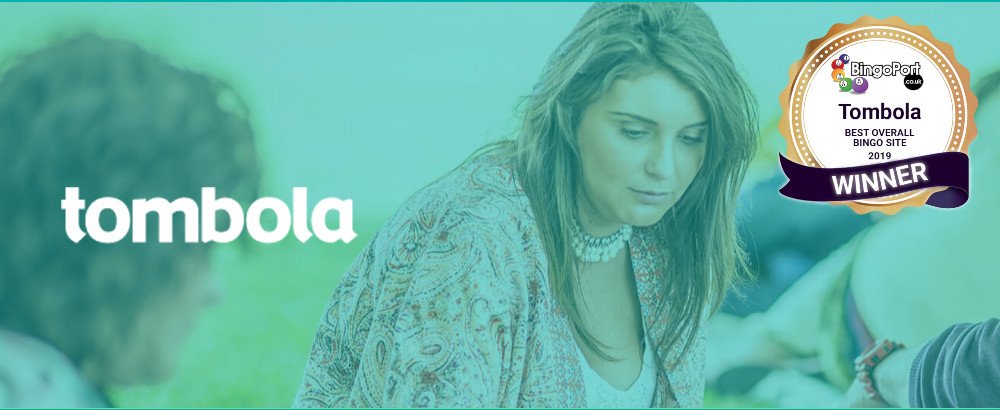 Multi-award winning Tombola Bingo must be doing something right. Currently the number 1 bingo website in the UK, Spain and Italy, it is considered amongst the most successful Bingo sites in the world.
Unlike many of its competitors, Tombola does not have bingo halls, sticking instead to the virtual world. Perhaps it is partly due to this focus that the company are considered such specialists, and have consequently done so well.
With unique games catering to every type of bingo player, and calm, minimalistic graphics, there's no wonder that players love Tombola Bingo, and return again and again.
Welcome bonus package
Although Tombola's welcome packages isn't the best we've ever seen, they still offer a pretty generous deal: sign up and spend £10 on bingo, and you'll be given an extra £20… that's a total of £30 to play with!
Deposit from £10. First deposit only. Any winnings can be withdrawn. Bonus money cannot be withdrawn. T&Cs apply
Tombola has so many low-cost tickets and games available that this can last new players quite a while —great news, as Tombola have an excellent variety of games to try out!
Pros
Games are all unique and exclusive
Plenty of chances to win bonuses through promotions
Low-cost tickets available —make the fun last longer!
A calm, classy look
Cons
Tombola's so popular that games rooms can get busy!
Limited banking options
Bottom Line
We're in love with Tombola's understated aesthetics and fun twists on popular game formats.
It's safe to say that BingoPort approves!
In depth
Banking
Tombola members can deposit a minimum of £10. There are also safeguards in place to prevent players from going totally bonkers (no more than £500 a week, and £2500 a month —or less, if the player chooses to limit themselves further).
Tombola's banking options are somewhat limited; nonetheless, they cater to the vast majority of the bingo market with these banking methods:
Depositing Funds
Card (Visa/Visa Electron/Mastercard/Maestro)
PayPal
Withdraw Funds
Players can withdraw funds from their balance at any time, through one of 3 methods:
Credit or debit card
PayPal
Cheque
PayPal is the quickest option; withdrawals will take a maximum of 72 hours. For both card and cheque withdrawals, players are reminded to expect a delay of 3-5 working days.
If you wish to withdraw over £2000 in one go, you'll have to do so by cheque, and only after verifying your identity with ID.
We think they could definitely benefit from including Neteller, Boku or Skrill however. Also, don't forget to check you've met the wagering requirements, or you won't be able to make any withdrawals.
Games
Tombola's biggest selling point is their games. Developed in-house on their own software, there's something for everyone, with a wide selection of bingo variations, as well as other casino games, such as adaptations of the classic roulette and slot machine formats.
Play Tombola's own take on 90 ball bingo, or save your pennies with Bingo Lite, where tickets start from as little as 2p, and there's still the chance to win big.
All Tombola's games are easy to play, and if you do need any help, there are clear instructions on the 'how to play' tab.
Bingo 90
Play in the traditional 90 ball format, with options to choose between 5 different clubs and 15 online chat rooms, each based on the theme of a colour. Or, if you're not feeling sociable, it's always possible to opt into 'No Chat'.
Tickets start from 10p and you can personalise your screen with different background colours.
CINCO
This game uses playing cards instead of bingo balls, with each player picking 5. The aim is to match yours with those turned over by the dealer; the first do so is the winner!
We love this twist on traditional bingo: the card game aspect adds even more thrill!
Pulse
It's speed bingo at it's very best! The numbers do, literally, pulse, as numbers are called at astounding speed. Daring players can opt to mark the numbers off themselves; those of us with slower reactions can choose automated play, and let the computer do the hard work!
This game's great for playing on-the-go: definitely recommended for fans of the app.
Roller-Coaster
Watch balls falling from the sky (well, at least from the roller-coaster track). Each ball has a different personality, its own expression and is accompanied by some exceptional sound effects!
If the ball's face tallies with one of yours, you'll get to welcome the new passenger aboard your carriage. Fill up your carriage first to win the roller-coaster prize —or within the first 5 or 6 balls to win huge jackpot prizes!
Carriages cost 25p and players can purchase up to 4 in any game.
Promotions
Enjoy promotions galore at Tombola!
As well as the regular offers, there are also new deals to be found every week. The promotions page is updated regularly, so it's best to keep checking back to make sure you know the latest.
Playmates
Each member has 5 unique codes to share with others, and with Tombola, friends really are the gifts that keep on giving.
Players don't just get rewarded for referring others (there's £5 in it for your friend, and £20 for you when they sign up using the code you sent, and spend £20 on bingo), there are ongoing rewards, too!
Every time they win above £20, you'll get a proportionate amount given as a bonus! So, for instance, if they were to win a jackpot of at least £50, there would be an extra tenner waiting for you next time you play!
Performance
Tombola is a breath of fresh air for bingo players.
Its calm colours and subtle tones make a refreshing change to the cheap-looking, gimmicky traits of other bingo sites. There's nothing flashy or showy and you certainly won't get a headache any time soon —which is good news, because it's easy to play on this site for hours on end!
The Tombola App is just the same: the sleek, calming design is fully optimised for the mobile experience. Available on both Android and IOS, there are a range of games, like Pulse, which are even more fun to play on-the-go.
Support
Tombola prides themself on their great customer service. They certainly do everything within their power to help users have a good time on site, with advisors on hand 24/7, and a variety of convenient ways to get in touch.
Phone (for free)...
From a landline: 0800 29 888 73
From a mobile: 0330 124 0700
Email: support@tombola.co.uk
Online Chat
Post: Tombola, Wylan Wharf, Low Street, Sunderland, Tyne & Wear SR1 2JR
There is also a handy 'help' section, where you can find all the answers to FAQs.
With the range of response time, from an average of 4 seconds for online chat, to an 4 hours for email, it's clear that Tombola really are on top of things, willing to go above and beyond in the name of good service.
Their Customer Service team are a helpful bunch, and you can even get to know them a bit through their on-site profiles.
Extra features
Social Media
Tombola's Facebook and Twitter pages are, quite simply, top-notch! Kept up-to-date, they feature all the latest from the world of Tombola, including events, news of CMs (if you fancy a job like theirs, check out our hints and tips), and featured promotions —well worth a 'like' or a 'follow'.
Community
Tombola's community feel is one of the best we've ever encountered! Chat games are well-populated, and players offer a great level of support and encouragement to each other.
It's clear from the social media pages, too, that Tombola and their customers really care about one another.
Final comments
Overall, it's a solid 5 stars from BingoPort: it's all to play for at Tombola, and we certainly appreciate their slightly more classy approach to online bingo.

If you love Tombola Bingo, why not try:
Recent Videos
Member Reviews