Wink Bingo: A Review of Offers, Bonuses and Promos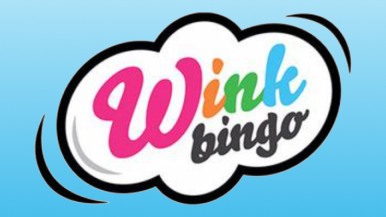 Deposit £10, play with £40 + 100 Free Spins use code STAR300
Free and penny bingo all day
Live chat, phone, and email support all available
Cool theme and great-looking artwork
Modern and responsive mobile app
Offer is ongoing. 1st depositors only. Offer valid once. Min deposit of £10 with code: WINK100. Get 100% Games Bonus (GB) (max £100) GB Must be claimed within 7 days & valid on selected games. GB wins capped at £100, exc. PJP win. Wagering req. apply: 30x GB funds (vary by game) funds; Country restrictions apply. Further T&Cs apply.
Wink Bingo Review Intro
Wink Bingo, a well-known name in the online gaming world, boasts a vibrant pop art theme that catches the eye. The site's design is lively and colourful, creating an enjoyable atmosphere, and we really liked how strong the branding was. Navigating the platform is straightforward, making it user-friendly, especially for those new to online bingo. As a big brand, Wink Bingo offers a range of benefits, including a variety of games and attractive bonuses. The downside, however, lies in the popularity, as larger player pools can mean more competition for prizes. Despite this, the site's reputation suggests reliability and trustworthiness. In this review, we'll explore whether Wink Bingo lives up to its big brand name, examining both its appearance and the practical aspects that contribute to a satisfying gaming experience.
Our Wink Bingo Review Score
We checked out Wink Bingo thoroughly and played on the site to let you know what's good and not-so-good about it. Here's a simple rundown of what we found – the things it does well and where it could do better, all in simple to read scores.
| | |
| --- | --- |
| Overall Score | 7 / 10 |
| Welcome Offer Rating | 7 / 10 |
| Existing Player Promotions Rating | 7 / 10 |
| VIP & Loyalty Rating | 7 / 10 |
| Product Rating | 7 / 10 |
| Branding Rating | 9 / 10 |
| User Experience Rating | 8 / 10 |
| Bingo Rooms Rating | 7 / 10 |
| Bingo Games Rating | 7 / 10 |
| Additional Games Rating | 7 / 10 |
| Mobile Rating | 8 / 10 |
| Responsible Gaming Rating | 8 / 10 |
| Jackpots Rating | 8 / 10 |
| Penny Bingo Rating | 8 / 10 |
| Payment Methods Rating | 7 / 10 |
| Depositing Rating | 7 / 10 |
| Withdrawing Rating | 7 / 10 |
| Customer Support Rating | 7 / 10 |
Wink Bingo Pros & Cons
If you just want the facts without getting caught up in all the details, here are the ups and downs we found when playing on Wink Bingo:
Free and penny bingo all day
Live chat, phone, and email support all available
Cool theme and great-looking artwork
Modern and responsive mobile app
Deposit only via debit card and PayPal
Live chat refuse to answer questions before you create an account
Withdrawals can take up to 8 working days
Wink Bingo New Customer Welcome Offer
Deposit £10, play with £40 + 100 Free Spins use code STAR300
Offer is ongoing. 1st depositors only. Offer valid once. Min deposit of £10 with code: WINK100. Get 100% Games Bonus (GB) (max £100) GB Must be claimed within 7 days & valid on selected games. GB wins capped at £100, exc. PJP win. Wagering req. apply: 30x GB funds (vary by game) funds; Country restrictions apply. Further T&Cs apply.
Wink Bingo Offer Breakdown
Wink Bingo has an incredibly simple welcome offer. When you make your first deposit, if you use code WINK100 you will get a 100% games bonus match. The maximum bonus is £100, so it should cover just about all first deposits, unless Mister Monopoly decides to play! Keeping it straightforward might make the bonus tempting to newer players who are unsure of overcomplicated offers. The bonus amount is okay, but it's not huge; we rarely if ever see a bonus offer below 100%. It's a little disappointing to see just a straight 100% bonus match, especially on such a well-known site; we might have at least hoped for some free spins thrown in. It's interesting that Wink Bingo has chosen a games bonus as its offer, though many players do value games bonus (which is for slots) more highly than bingo bonus. The bonus only requires a £10 minimum deposit, the site's minimum, which is a good selling point, and the wagering requirement is x30, which is competitive.
Wink Bingo Welcome Bonus Our Verdict
Wink Bingo's welcome offer gives a 100% bonus up to £100, which is okay, but the bonus amount might leave some players wanting more, especially with other sites offering bigger bonuses and extra perks like free spins on your first deposit. On the positive side, the minimum deposit of just £10 is good for those not looking to spend too much initially. This is the site's minimum, so it doesn't get fairer than that. The wagering requirement of x30 is competitive for a games bonus, making it on par with other sites in the bingo scene. Slightly annoying is the fact that you have to enter a code (WINK100) to claim the offer, rather than it being applied automatically. In our opinion, while the bonus amount may be a bit underwhelming, the low minimum deposit and reasonable wagering requirement make Wink Bingo's welcome offer a decent choice for players who prioritise affordability and simplicity in their gaming experience.
Wink Bingo Welcome offer rating: 7 / 10
Using The Wink Bingo Welcome Bonus
To claim your welcome offer on Wink Bingo, here's what you'll need to do.

1. Create an account, or log in. This is simple, and only takes a few details to set up.

2. Click the plus symbol on the green button next to your balance. This will open the site cashier on the Deposit page.

3. Select your payment method and enter the details (debit card number or PayPal account log in, for example)

4. Don't forget to enter code WINK100 to claim your welcome offer of 100% bonus (up to £100)

5. The money will land in your account in moments, and you can immediately start playing! Your welcome bonus can be used on slot games, so they're a great place to start.
Wink Bingo Welcome Bonus Terms
Offer is ongoing. 1st depositors only. Offer valid once. Min deposit of £10 with code: WINK100. Get 100% Games Bonus (GB) (max £100) GB Must be claimed within 7 days & valid on selected games. GB wins capped at £100, exc. PJP win. Wagering req. apply: 30x GB funds (vary by game) funds; Country restrictions apply. Further T&Cs apply.
The offer is for first time depositors only.
This offer is ongoing promotion with no current end date.
This offer may not be combined with any other offer.
This offer is valid once only.
This offer is not available to players in Northern Ireland.
To be eligible for the Promotion you must:
Be a new customer and not have registered and/or deposited with Wink Bingo before.
Deposit a minimum of £10 with code: WINK100.
Comply with these terms and conditions.
The Promotion consists of:
A Games Bonus of 100% of your first deposit (for example, if you deposit £20, you will receive a £20 bonus) up to a maximum of £100.

100% Games Bonus Terms

You will be granted a Games Bonus (GB) of 100% of your first deposit (up to a maximum of £100) when you deposit £10 or more.
GB must be claimed within 7 days of deposit if they are unclaimed, they will be forfeit.
If claiming the GB on mobile/tablet, players will need to click the trophy icon in the "My Zone" section of their account.
If claiming the GB on PC, players will need to visit the "Prizes" tab in the "My Zone" section of their account.
Wagering req. apply: 30x GB funds (vary by game).
Winnings generated as a result of wagering GB funds, will be added to the games bonus bankroll.
Funds won from a GB can be transferred to real cash up to the value of £100, plus the initial bonus amount granted.
Wagering order: when playing a game, real money funds will always be used before GB funds.
If you request a withdrawal from your real money bankroll before fulfilling the above wagering requirement you will lose all GB funds and any winnings connected with those bingo bonus funds.

General Terms & Conditions:

For the purposes of this Promotion, the games listed in the casino tab on the Wink Bingo Website are all "Excluded Games" (and are, for the avoidance of doubt, all roulette games, blackjack games, or video pokers, and the Wheel of Light and Deal or No Deal games).
Please note that not all Instant Games contribute the same amount towards the wagering requirements. The following is a list of contributions for each individual game type: Video Slots & Slots, Scratch cards, Keno, Race, Arcade – 100%, Hi-Lo Games – 50%, Roulette Games, Blackjacks & Wheel of Light, Video Poker – 0%. For example: if you wager £500 on Hi-Lo game, only £250 (50%) contributes towards the wagering requirements.
Wagering order: when playing a game, real money funds will always be used before games bonus funds.
If you request a withdrawal from your real money bankroll before fulfilling the above wagering requirement you will lose all games bonus funds and any winnings connected with those bingo bonus funds.
Withdrawing funds: For further information on how you can withdraw funds from your account, please see our "Withdrawal Policy". UK only – your deposit balance (defined as Transaction Balance under our Withdrawal Policy) is available for withdrawal at any time. General withdrawal terms apply.
We may vary or cancel any promotion, bonus or special offer at any time. Other than where necessary to prevent fraud or other similar unlawful behaviour, any such variation or cancellation will not apply to you if you have already opted into the promotion, bonus or special, made a deposit in expectation of receipt of a bonus or other benefits offered, and/or commenced play in relation to the promotion, bonus or special offer prior to the date of the communication of the variation or cancellation.
Participation in this Promotion and the activities and games offered on the Wink Bingo Website is restricted to individuals of legal age as determined in the jurisdiction in which the individual resides. You cannot enter this Promotion or play on the Wink Bingo Website under any circumstances if you are not at least eighteen years of age ('Legally of Age'). You may be asked at any stage to provide the Company or a third party with satisfactory proof of age and/or identity. Failure to provide satisfactory proof of age and/or identity shall disqualify you from participation in the Promotion and/or winning any of the bonuses.
Except as stated above, none of the bonuses granted under this Promotion may be exchanged for cash or transferred to a third party.
All bonuses and promotional offers, and any winnings generated through the wagering of either of the aforesaid, will be cancelled at withdrawal if any of the applicable conditions have not been met in full.
For security and verification purposes, the Company restricts participation in the Promotion to one person for each household, computer terminal or mobile device.
If you have a pending message on the Wink Bingo Website's cashier regarding your recent gaming activity, we reserve the right to revoke your eligibility to participate and/or continue to participate in this Promotion. In such an event, any bonus and/or other benefit which you have received and/or are eligible to receive under this Promotion, shall be forfeited by you.
We may cancel, modify or suspend the promotion, bonus or special offer, including without limitation, where required for security reasons, to comply with applicable law or regulation due to abuse or otherwise where the promotion is not capable of being conducted as specified as a result of exceptional circumstances.
We reserve the right to deny bonuses, if you were found taking advantage of our bonus offers or any other deceitful activity cross the Sites operated by the Company.
Your deposit balance (defined as Transaction Balance under our Withdrawal Policy) is available for withdrawal at any time. General withdrawal terms apply. For further info see Withdrawal Policy.
Wink Bingo Free Bingo & Newbie Rooms
We were a bit disappointed not to find a newbie room on Wink Bingo, but we did discover a silver lining – the Grab a Fiver room. This free bingo room offers games every half an hour throughout the day, each with a £5 bonus prize. Surprisingly, it wasn't too crowded; even with only 5 minutes until kickoff there were only 90 players in. This was a pleasant surprise, considering some freebie rooms on other sites can get quite crowded, sometimes with thousands of players. The next game we played, there were 300, so it does vary! £5 bonus isn't a massive prize, although with it being free bingo, that's not surprising, and at least it's consistent. Although the absence of a newbie room was a letdown, the enjoyable experience in the Grab a Fiver room was definitely a positive aspect of Wink Bingo's free offerings, making it a good spot for players looking for some bingo fun without spending a penny.
More Wink Bingo Welcome Offers
Wink Bingo keeps it simple with just one welcome offer, which is quite common in the bingo world. While some sites offer a choice, having a single offer is not unusual. The surprise here is that it's a games bonus, not the typical bingo bonus. However, many bingo players appreciate this twist as it lets them enjoy slots alongside their bingo games. What makes it interesting is that the games bonus is versatile, usable on any slot, giving players more freedom compared to a free spins offer. In our view, the unique approach to the welcome offer provides a different and enjoyable gaming experience, especially for those who like the flexibility of trying out various slots alongside their bingo play. Another choice of welcome offer like a bingo bonus might have been nice, but what Wink Bingo offers isn't bad at all.
Wink Bingo Technical Specifications
| | |
| --- | --- |
| Site Name | Wink Bingo |
| Software | Dragonfish |
| Welcome Offer | Deposit £10, play with £40 + 100 Free Spins use code STAR300 |
| 1st Deposit Bonus | 30,000 pts |
| No Deposit Bonus | None |
| Free Bingo | Yes |
| Promotions | Yes |
| Min. Deposit | £10 |
| Min. Withdrawal | £10 |
| Deposit Methods | |
| Established | 2007 |
| UK Gambling Commission | License number 58267 |
Wink Bingo Review: Existing Player Promotions
Wink Bingo has a promotions section designed to reward and entice players on the site. There is a shop to browse rewards and spend your loyalty coins in, a daily cashback offer, and ongoing promotions like bingo bonuses, slots bonuses, and free spins. Offers come up as and when, rather than a lot of long-term permanent offers, so it's a bit of a roulette to see what you'll be offered each week. Deals are also somewhat personalised, so you may not be offered the same thing as another player. The best way to find out what's available is to go to your My Wink section and see what's listed. You can also sign up for emails or texts to get notified of the latest offers, if you like being kept up to date or don't log in every day and worry about missing something.
Daily Cashback - Get 3% of yesterday's cash losses back as cashback. The minimum amount of losses to qualify is £5, and this is an ongoing offer that automatically runs every day. Cashback doesn't build up, though; if you don't claim it on the day, it's gone.

Wink Shop - Earn loyalty coins as you play, and then spend them in the shop on your choice of rewards. Claim them under 'My Account', and then you can visit the shop to pick out your rewards.

Free Spins - Play a selected slot without using your money if you get free spins. The T&Cs will explain the spin value, as well as how long you have before they expire, so you can be sure to use them in time.
Wink Bingo Existing Player Promotions rating: 7 / 10
Wink Bingo Review: VIP & Loyalty
On Wink Bingo, rewards are run by giving players loyalty coins for the bets they make, and then those coins can be spent in a rewards shop. But how good is the loyalty scheme on Wink Bingo really?

Players earn a coin for every £1 cash spent on bingo, or every £10 cash spent on instant games. This isn't bad, but it's worth nothing that your spend will be rounded down per session, so if you spend £9.50 on slots, you won't get a coin for this. Your coins are totalled up when you log out, and then applied when you next log in. This is pretty quick, as some sites make players wait a whole month before tallying their loyalty rewards! You can spend the loyalty coins on whatever you want in the shop, which is a nice degree of flexibility. Save them up or spend them? It's your call.
Wink Bingo VIP & Loyalty rating: 7 / 10
Wink Bingo Product Review
Wink Bingo is easy to use, making it great for newbies or players who are unsure about starting somewhere new. If you're new to the site, start with the free bingo room – it's usually busy, but a good place to begin as you aren't spending any money. Most rooms have a few dozen players, getting busier in the evenings. Ticket prices are wallet-friendly, ranging from free to 10p, with most priced at 5p. We really enjoy the site, especially the affordable tickets and the friendly community feel. The free bingo room is a favourite, even if it gets a bit crowded. It's a lively site with a welcoming vibe, and the branding is very consistent throughout! Overall, Wink Bingo offers a fun bingo experience, and we appreciate the user-friendly layout, cheap tickets, and the chance to dive into some exciting bingo games.
Wink Bingo Product rating: 7 / 10
Wink Bingo Branding Review
Wink Bingo stands out with its bold and recognisable branding, styled after pop art. The use of comic-book-style cartoons and a vibrant pink, blue, and white colour scheme gives it a distinctive look. It would be easy to spot in a line-up, a rarity among bingo sites! The overall vibe feels quite girly due to the art featuring all women characters, but it's not overly pink or fluffy. The strong and unique branding adds a fun touch to the site, making it memorable and different from the usual bingo platforms. It's light and quirky, without being cheesy, which can be a difficult line to walk, but Wink Bingo's cartoon characters definitely feel grown-up, not childish. If you like a site that's visually striking and stands out from the crowd, Wink Bingo's pop art-inspired design is a definite win.
Wink Bingo Branding rating: 9 / 10
Wink Bingo User Experience Review
Playing on Wink Bingo was a fun experience with no hitches or hold-ups. We tried both the website on desktop PC, and the app, and we found both of them to be pretty user-friendly. Finding our way around was simple; there is a homepage with bingo games and slots recommended, and the menu holds everything else you're likely to need. For newcomers, claiming your welcome offer then starting with the free bingo room is a good introduction. Landing on the main app or homepage, the standout features are the vibrant pop art design, the recommended slots, and the upcoming bingo games. The layout is simple, making it easy to find your way around. The games and rooms are easy to browse, and the ticket prices are visible upfront. The overall gaming experience on Wink Bingo is enjoyable, providing a hassle-free way to enjoy bingo and slots on a site with a really nice theme.
Wink Bingo User Experience rating: 8 / 10
Wink Bingo Rooms Review
Wink Bingo offers 11 bingo rooms, each with something different about them. You can find them all in the bingo lobby, and handy tiles give you the low-down on what to expect if you jump in. The lobby divides the games up into those about to start next, classic games, specials, jackpot games, and free. This is a nice, logical layout that makes it easy to find games to suit you. The room popularity varies wildly; the free rooms are of course the busiest, with over 700 players bought in and waiting for the next Grab a Fiver game when we came on. The paid rooms had between 5 and 80 players; most popular was Flip It, which was in the prebuy stage for a game starting in a few hours. Ticket prices range from free and 1p up to 50p; most tickets were 5p, which is very reasonable.
Wink Bingo Rooms rating: 7 / 10
Wink Bingo Best Bingo Rooms
Funky 5M - This bingo room offers penny tickets, and the jackpot prize is 15,000 shop coins. These are like loyalty points, and you can spend them in the Shop on the reward of your choice.

Mystery Jackpot - This is a 75-ball game, and the jackpot could be anything from £10 to £500. The jackpot is only revealed as it is won, so you're kept guessing right up to the last moment.

Grab a Fiver - Free bingo is what makes this room so popular; games play every half an hour, and are hugely busy, with over 700 players being perfectly normal. The prize is, as the name suggests, £5 bonus.

Bingo Deal - The 52-card bingo variant is played in here, and the prize depends on how many players buy in. Tickets are typically 5p, and you use a hand of 5 playing cards instead of a bingo card. Games tend to be quite fast as there are only 5 cards to match in order to win.
Wink Bingo Chat Review
Top of the Shop - We jumped into this room because the progressive jackpot caught our eye, but the chat was a nice bonus! A few players were messaging in here, talking about what they had lined up for the week.

Bingo Deal - This room was incredibly empty, perhaps because it was daytime when we played in here. As a result, no one was chatting at all, which was a shame, but the games do go quickly, so we didn't mind too much.

The YOYO - Players congratulated the winners in here, and occasionally called out the number they were waiting for to land a full house, but there wasn't really any small talk. Chat was definitely at a minimum.

Easy Peasy - The room wasn't super busy, so again there wasn't a lot of chat. Two players were talking to each other a little, but no one else joined in.
Wink Bingo Games Review
The selection of bingo variants on Wink Bingo is a bit limited; they offer 90-ball, 75-ball, and 52-card bingo, but that is all. In fairness, it does keep things simple, and is less likely to overwhelm new players, but if you're looking for weird and wonderful bingo variants, you won't find them on Wink Bingo. There is a good variety of rooms, but only the three different versions of bingo amongst them.

There is more variation when it comes to the room jackpots; Wink Bingo has thought up some pretty fun ways to freshen up their prizes, like mystery pots, loyalty coins, and jackpots that change throughout the game. But if you like lots of bingo game variants, Wink Bingo might not be a good fit for you, as it just sticks to the most popular games. But what it lacks in variety, it makes up for in quality, as all the games on Wink Bingo really do look great!
90-Ball Bingo - The original, the classic, and the one that most people think of when you say 'bingo'. Play for one line, two lines, or the full house to win a prize, and check out variations like mystery jackpots, free tickets, and yo-yo jackpots.

75-Ball Bingo - Played on a 5x5 grid of numbers, there are two versions of this on Wink Bingo. The 75-25 version fills in every number on the card's grid, whereas 75-24 has a blank 'free space' in the centre square. Both are lots of fun!

52-Card Bingo - This exciting version is played with a pack of 52 playing cards, instead of bingo balls with numbers on. Your bingo card is a hand of 5 playing cards, and cards are drawn randomly from the pack. Match all 5 cards in your hand to win!
Wink Bingo Games rating: 7 / 10
Wink Bingo Jackpots
If you love huge jackpot prizes when you play, there's a few things to check out on Wink Bingo. Of course, every bingo room has a jackpot prize for winning the full house, but we're talking about the big prizes here. The biggest possible jackpot prize playing bingo is in the Mystery Jackpot room, with a top prize of £500. Of course, you won't know what you're going to win until the prize is revealed- it could be anywhere from £10 to £500 in this room. The other bingo room to take notice of is Top of the Shop- it has a progressive jackpot attached which is won if you bingo in a certain number of calls. When we played, it was sitting at almost £16,000, which would be a very nice windfall!

When it comes to slots, there is a whole section for Jackpot games, all of which have huge progressive jackpots attached on top of their usual payline prizes.
Wink Bingo Jackpots rating: 8 / 10
Wink Bingo Penny Bingo
There are penny bingo games on Wink Bingo, as well as free bingo of course!

The Funky 5M rooms offers 1p tickets, and the prize here is 15,000 loyalty coins. You use these coins in the Shop to buy the rewards you want, giving you the flexibility to choose your own prize. Most other bingo rooms have their tickets priced at 5p, which still isn't a bad price compared to other sites.

The Grab a Fiver room has free bingo all day, and offers a prize of £5 bonus for the winner of each game. There are also two loyalty rooms where tickets are free to play, though access to these is only granted through loyalty rewards.
Wink Bingo Penny Bingo rating: 8 / 10
Wink Bingo Side Games Review
Wink Bingo offers some nice side games, adding extra fun to your bingo time. It's handy that you can play slot games right in the bingo rooms, so you don't have to leave the room to switch games. These side games are a good way to pass the time between bingo rounds, making breaks more exciting when normally there isn't anything really happening. The variety of side games is okay, but having more choices would be even better for players. While they're enjoyable for short breaks, a bigger selection would be more likely to suit different player preferences. Of course, if you want even more slot games, you can go to the Slots section to get the full catalogue, but that does mean leaving the bingo room. Overall, Wink Bingo's side games make waiting more fun, but having more options could make the whole experience even better.
Wink Bingo Slot Games Review
There are hundreds of slot games on Wink Bingo, and more added often too. The site splits its slots into New Releases, the A-List, Eyecon-ic, Scorching Slots, Jackpots, and then the full catalogue. It's interesting that the site has a whole section just for Eyecon games; they are known for soft, cartoon graphics, and we usually find these games very middle-of-the-road.

An A-List is a fun way to offer slot game recommendations, and gives a good starting point for players who perhaps don't know what they'd like to play. Presumably, Scorching Slots are those that have been 'hot' lately, and of course, it's always good to have a New section to show off the latest additions. There are a fair few Megaways slots available too, which are usually popular amongst players. These are games that have tonnes of paylines (often 243 paylines) on which to win.
Wink Bingo Top Slot & Games
Agent Jane Blonde Returns
Secret agent Jane Blonde is back in this sequel slot. The graphics are sharp and dark with bright neon, and the respins feature is great fun. Land 2 scatter symbols to trigger it, and watch as the scatters transform into wilds.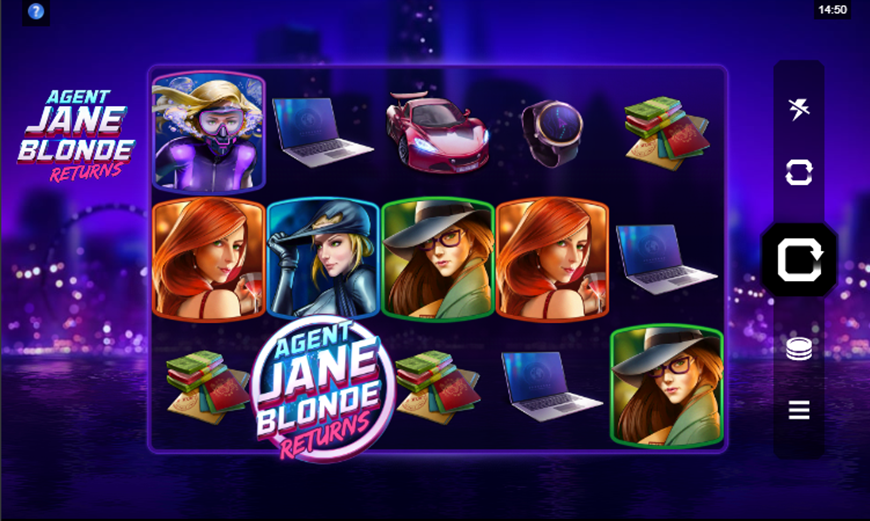 Autumn Gold
A classic slot with just three reels, Autumn Gold is full of harvest cheer. Spin symbols like pumpkins, welly-boots, and toadstools to play for a win. The maple leaf is the scatter, and three or more will trigger free spins. The umbrella is a Prize Pick symbol; land three or more to take your picks.
Divine Diamonds
This classic-style 5-reel slot is filled with diamonds, cherries, 7s, and bars. There is a wild symbol, and the diamond is a scatter. Get 3 or more diamonds for a cash prize. The top prize is 9 diamonds, which will pay out 2,000x your bet! There is also a Free Spins scatter which triggers a free spins wheel.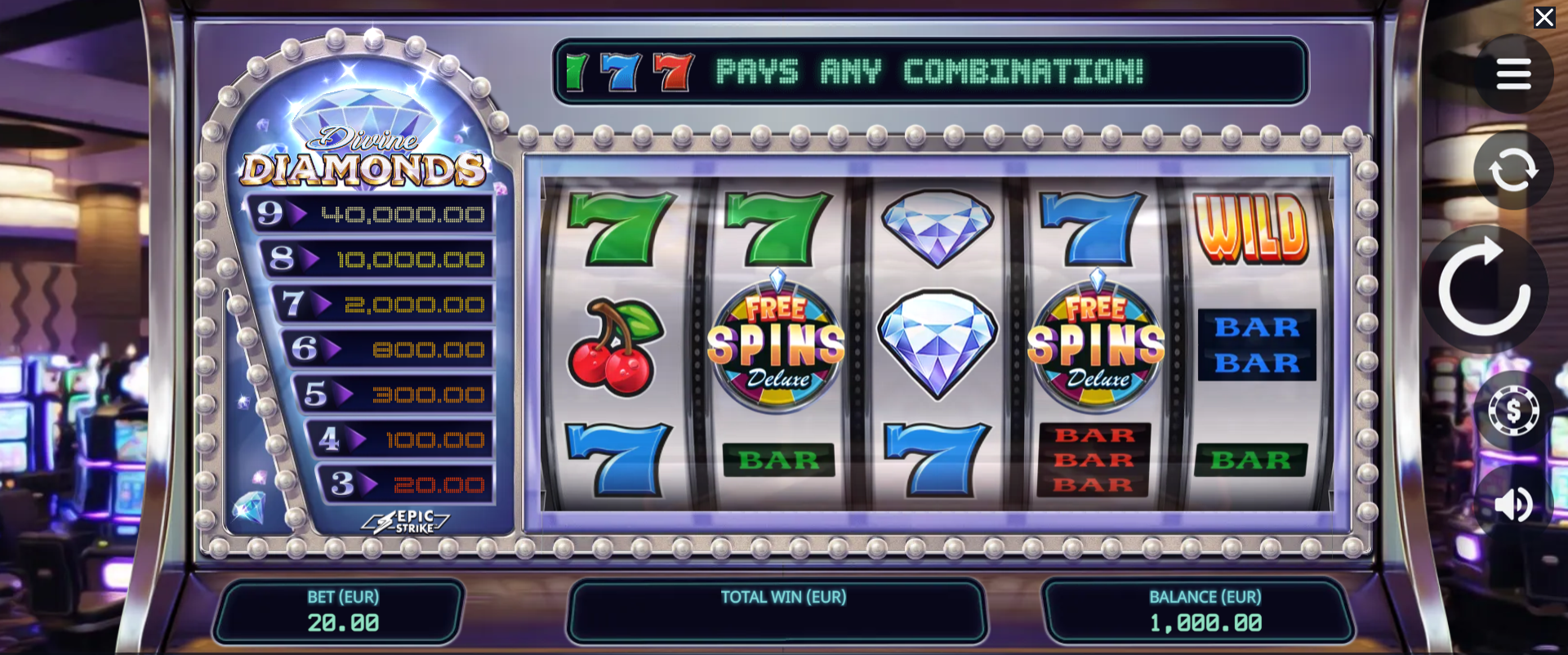 Immortal Romance
This darkly gothic love story features several special features, including the randomly-triggered Wild Desire feature, which turns up to 5 reels wild, and the Chamber of Spins which offers a variety of features including top bonuses of free spins, increasing multipliers, and re-triggers.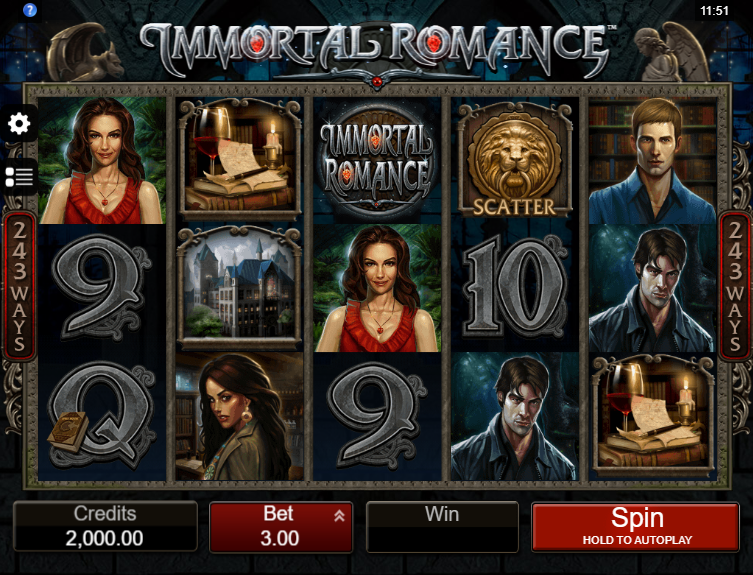 Wink Bingo Additional Games rating: 7 / 10
Wink Bingo Mobile and App Review
Wink Bingo makes gaming on your phone easy with a mobile-friendly site. Using your usual mobile browser like Chrome or Safari to play on Wink Bingo brings up a version of the site designed for smaller screens. Everything you need- bingo, slots, and promos- is right there in the menu, just like on the computer. And, if you prefer, there's a convenient free app! With a quick tap, you can get to the site without going to the website every time. The app has everything, including chat, side games in bingo rooms, and all the regular promos. It's easy to use, whether you're out and about or chilling at home. Wink Bingo's mobile options make sure you can have fun, prebuy tickets, and play all your favourites whether you prefer playing Wink Bingo on the website or by using the app.
Wink Bingo Mobile rating: 8 / 10
Wink Bingo Responsible Gambling
Wink Bingo is serious about responsible gambling and has tools to help keep things safe and enjoyable. To find this info, click on the person icon to go to the "My Zone" menu, and then go to Useful Links. Here, you'll discover tools like:

Self Assessment Test: Take a quick questionnaire on GamCare to check if your gambling is healthy and safe

Activity Statements: Get details about your play, deposits, and bets to manage your money better

Game Time Reminder: Set pop-ups to activate every 30 mins to 2 hours to remind you to take breaks

Deposit Limits: Set daily, weekly, or monthly limits to stay within your budget

Take a Break: Lock your account for a short time, from 1 day to 6 weeks

Self Exclusion: Exclude yourself from your account for 6 months to 5 years if you need a longer break away from gambling
Wink Bingo Responsible Gambling rating: 8 / 10
Wink Bingo Banking Review: Available Payment Methods
To deposit money into your Wink Bingo account, first, create an account. You'll be asked to verify your details with documents like ID to prove your age, and some sort of proof of address. Once that's done, you can deposit; the minimum is £10, which is average for a bingo site. The same goes for withdrawals- £10 is the minimum. However, the deposit options are a bit limited; you can only use a debit card (Visa or Mastercard) or PayPal. While these are major providers, it's a bit disappointing not to have other choices, like Paysafecard or Neteller. Some players like using alternatives to keep their debit card separate from their online bingo, but that's not an option here. Wink Bingo's minimum deposit and withdrawal of £10 is not bad, but the fact that it currently only allows deposits through debit cards or PayPal might be a letdown for those looking for more payment options.
Available Payment Methods:
Wink Bingo Payment Methods rating: 7 / 10
Wink Bingo Banking Review: Depositing
Depositing money on Wink Bingo is straightforward, but the options are a bit basic compared to other sites. You can choose between debit cards or PayPal for your deposit, and that's pretty much it. While it's simple, it's not as wide-reaching as some competitors who provide more choices of payment option in an attempt to better suit more players. The minimum deposit is £10 which is okay, we've seen sites with lower, but £10 is very reasonable.

When it comes to keeping your transactions safe, debit cards and PayPal are reliable methods. They're widely used and offer good protection for your money. So, even though the options are a bit limited, they are secure. If you're fine with using debit cards or PayPal, depositing on Wink Bingo is easy and ensures your funds are safe. It's just a bit disappointing that the site hasn't expanded its deposit options, which might make some players think twice about joining.
Wink Bingo Depositing rating: 7 / 10
Wink Bingo Banking Review: Withdrawals
For Wink Bingo withdrawals, you need at least £10 in your account, which is the minimum amount you can withdraw. To make a withdrawal, click on the green button showing your balance to go to the cashier, and choose "Withdrawal".

Withdrawal requests are reviewed within 1 working day and may take up to 8 working days to fully process. This wait time is a bit long, especially when compared to some competitors who manage same-day transactions.

Withdrawing is simple, but you have to use the same payment method you used for depositing. This is a standard anti-fraud measure across most UK bingo sites. After withdrawal is complete, you'll be able to see the transaction listed as "Broadway Gaming UK Ltd" on your bank statement. While the withdrawal process is straightforward, the wait time might be a drawback for those looking for quicker transactions.
Wink Bingo Withdrawing rating: 7 / 10
Wink Bingo Customer Service Review
Getting help on Wink Bingo is available via a few methods. The easiest is live chat, with a little chat bubble on the page and in the menu, active from 10 am to 10 pm. Clicking the bubble connects you, though it did take a while to pair us with a support agent. Unfortunately we faced an issue as new players; the agent wouldn't answer any questions until we created an account! We asked about newbie rooms before we signed up, and were informed that they couldn't tell us if there was one or not until we had an account. This is sure to make it tough for someone deciding whether or not to join!

Beyond live chat, Wink Bingo has FAQs, an email (support@winkbingo.com), and a phone number (0808 901 2508). Despite good support options, finding them was tricky. There's no "Contact Us" at the bottom of the page, though live chat can be found in the main menu. We found email and phone details under "My Zone," "Useful Links," then "Support." Quite complicated! Simplifying these details would make Wink Bingo more user-friendly.
Wink Bingo Customer service rating: 7 / 10
Wink Bingo Available Support
Conclusion
In conclusion, Wink Bingo offers a fun, fashionable, and thoroughly enjoyable bingo experience. The site's pop art design stands out, making it easily recognisable. While the welcome offer is decent, the game variety, especially with the bingo games, could be more adventurous. Navigating the site, whether on the website or app, is easy to do, making it simple for both regular players and newcomers. The mobile options are handy, ensuring you don't miss out on the fun, especially with the site's app. Unfortunately, however, deposit choices are a bit limited. Wink Bingo takes responsible gambling seriously, providing useful tools, and customer support is available through live chat, though it could be more accommodating for new would-be players. Despite some limitations, Wink Bingo's simplicity, recognisable branding, and commitment to responsible gaming make it a good choice for those seeking an uncomplicated and secure bingo platform.
Wink Bingo Overall rating for Wink Bingo: 7 / 10