Gala Bingo: A Review of Offers, Bonuses and Promos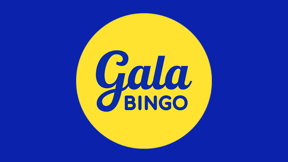 £50 Bingo Bonus & 40 Free Spins
Multiple bingo rooms offering free bingo
Loyalty rewards for both bingo and slots players
Huge games catalogue with plenty of variety
Fast withdrawals
18+. New online customers only. Min 1st deposit & spend £10 on Bingo tickets to get £50 Bingo bonus (4x wagering, valid 7 days, selected games) + 40 Free Spins (£0.10 value each, valid 7 days, selected games). Players restrictions and T&Cs apply.
Gala Bingo Review Intro
Gala Bingo is one of Britain's most popular and trusted bingo sites. The brand was first established back in 1929, so experience is one thing this company has in spades! Historically, they were known as one of the biggest high street bingo club operators. Gala Bingo is now an online bingo and casino company owned and operated by Entain.

The popularity of their high street clubs helped them thrive in the online space as they developed an equally famous online bingo offering with big prizes, TV endorsements, and an ever-growing fan base of players. They're a multi-award-winning brand, including four BingoPort Player's Choice Awards across three years, so they're respected and trusted within the industry as well as by players.
Our Gala Bingo Review Score
As one of the most respected online bingo portals, we take our role seriously in reviewing bingo sites carefully as we promise you a well-rounded and all-encompassing assessment of one of Britain's most beloved bingo sites Gala Bingo. Our team of experts delves deep into the products and features at Gala Bingo, considering multiple factors to present you with the most comprehensive and insightful review available on the market.

First impressions matter, and Gala Bingo knows how to welcome players with open arms. We meticulously analyse their welcome offer to provide you with an honest evaluation having registered and played at Gala Bingo ourselves. From bonus amounts to wagering requirements, we leave no stone unturned, ensuring you have a clear understanding of what awaits you upon signing up.

We explore their vast array of games and rooms, ranging from classic bingo to thrilling casino games. Our team engages in the gaming experience first hand, allowing us to share our genuine excitement about the diverse offerings Gala Bingo provides.

Our Gala Bingo review is full of detailed descriptions and scores for each aspect of the platform. From the welcome offer to game selection, software functionality to user experience, we break it down, ensuring you have a clear picture of what to expect along with a sophisticated scoring system that compliment our review process.
| | |
| --- | --- |
| Overall Score | 7 / 10 |
| Welcome Offer Rating | 8 / 10 |
| Existing Player Promotions Rating | 6 / 10 |
| VIP & Loyalty Rating | 7 / 10 |
| Product Rating | 7 / 10 |
| Branding Rating | 7 / 10 |
| User Experience Rating | 7 / 10 |
| Bingo Rooms Rating | 8 / 10 |
| Bingo Games Rating | 8 / 10 |
| Additional Games Rating | 8 / 10 |
| Mobile Rating | 8 / 10 |
| Responsible Gaming Rating | 8 / 10 |
| Jackpots Rating | 7 / 10 |
| Penny Bingo Rating | 8 / 10 |
| Payment Methods Rating | 8 / 10 |
| Depositing Rating | 7 / 10 |
| Withdrawing Rating | 8 / 10 |
| Customer Support Rating | 7 / 10 |
Gala Bingo Pros & Cons
Need the info, but don't have the time? Here's everything you need to know about Gala Bingo, condensed into a quick snapshot:
Multiple bingo rooms offering free bingo
Loyalty rewards for both bingo and slots players
Huge games catalogue with plenty of variety
Fast withdrawals
Loyalty scheme is a little complicated
Cost to qualify for daily free spins is a little high
Gala Bingo New Customer Welcome Offer
£50 Bingo Bonus & 40 Free Spins
18+. New online customers only. Min 1st deposit & spend £10 on Bingo tickets to get £50 Bingo bonus (4x wagering, valid 7 days, selected games) + 40 Free Spins (£0.10 value each, valid 7 days, selected games). Players restrictions and T&Cs apply.
Gala Bingo Offer Breakdown
This is a really simple offer from Gala and the added bonus of free spins makes it healthier than other comparable welcome offers out there. Its very easy to earn, you deposit £10 into your account, spend £10 on bingo and get £50 bonus with the addition of 40 Free Spins on slots.

To qualify for the Gala bingo welcome bonus, you have to be a brand new player to Gala bingo and you have to make a first deposit of exactly £10 within 7 days of joining. You have to spend that £10 in a bingo room, this is known as a qualifying wager.

It must be a whole £10 deposit! Cumulative deposits that amount to £10 will not count, so there is an expectation to start by depositing and spending that whole amount. If you win off your initial deposit as well, that is still processed as your normal cash balance.

Check which payment processors are accepted for this offer before you deposit. As the terms and conditions last stated that deposits made via Envoy, Neteller, PayPal, Apple Pay, Moneybookers, Paysafe, Skrill or via any pre-payment card, and some debit cards will NOT qualify.

Once you qualify, collect the bonus from the My Bonus section of the promotions tab on the site and collect the free spins the My Free Spins section.
Gala Bingo Welcome Bonus Our Verdict
This Gala Bingo bonus is pretty rewarding, there are some wagering requirements, but if you use your bonus wisely you'll be able to make those most of this 500% award. If you're a low spender, you could play the 1p bingo room and make the most of that first £10 as long as you spend within 7 days of registering! But otherwise there's a huge choice of rooms to play in when you first join.

So new players must make a first deposit of £10, and then wager £10 on bingo, that will unlock £50 bingo bonus plus 40 free spins! This is a very generous welcome bonus compared to most other welcome offers in the industry, so we think its worthwhile checking out if you're looking to join a new site.

You get a minimum and maximum award of £50 bingo bonus and 40 free spins, from your first £10 - its a no fuss bonus. We like that it's a fixed offer, so no need for additional confusing qualifying deposits, its all earned on that first £10 deposit.

The 40 free spins are available on the game Big Banker slot and must be claimed from the My Free Spins section of the promotions tab once you've qualified through your first bingo wager. It might seem a bit rubbish to have only only game available, but it's common for free spins to be set to a select slot game. And to be fair it's a pretty standard Jackpot slot game with Wilds, Scatters and a £250k jackpot so isn't a bad game to have a free go on. The simplicity of this offer is what makes its one of the most rewarding, yes there's some wagering. 4 x with an expectation for you to play through £200 of bonus, but its a fee bonus after all. If you're expecting to get absolute 500% free cash from a bingo site, you're probably playing for the wrong reason and not playing responsibly. On the flip side, any winnings you get from the free spins will be paid into your cash balance with no wagering, which is pretty cool.
Gala Bingo Welcome offer rating: 6 / 10
Using The Gala Bingo Welcome Bonus
Sign up by entering your name, date of birth, email, phone number, and addressYou can opt in or out of marketing right from the startOnce your details are verified, you can access the siteGo to the cashier, and here you can make your depositSelect the payment method and amount (£10 min for welcome offer)Wager £10 in any bingo room to unlock your bonus and spinsYou have 7 days to use your welcome bonus!

Gala Bingo Welcome Bonus Terms
18+. New online customers only. Min 1st deposit & spend £10 on Bingo tickets to get £50 Bingo bonus (4x wagering, valid 7 days, selected games) + 40 Free Spins (£0.10 value each, valid 7 days, selected games). Players restrictions and T&Cs apply.
This Promotion is available to Eligible Players (defined below) from 2 March 2022 until further notice (the "Promotion Period"). This Promotion is available to new customers of galabingo.com (the "Website") who:are over 18 years old.have not made a deposit before.have a verified Website account.Once an Eligible Player has registered for the Welcome Offer, they are not eligible for another Welcome Offer on any other Gala Brand.have an account registered in a country where the Promoter accepts customers, which can be seen in the list.(together an "Eligible Player"). To qualify for this Promotion, an Eligible Player must deposit and spend at least £10 in any bingo room within 7 days of registering for a Website account (a "Qualifying Wager").Cumulative deposits up to£10 will not count. You must make the full amount on your first deposit. No opt-in for this Promotion is required.Deposits made via Envoy, Neteller, PayPal, Apple Pay, Moneybookers, Paysafe, Skrill or via any pre-payment card, certain debit cards will NOT qualify for this Promotion.An Eligible Player can only claim this Promotion once. Once a qualifying wager is made, an eligible player will be able to claim a £50 bingo bonus that can be used in any bingo room.(the "£50 Bingo Bonus").The £50 Bingo Bonus can be claimed by visiting the "My Bonuses" section of the "Promotions" tab on the Website.Once claimed, the £50 Bingo Bonus will then be credited to the Bonus Balance section of an Eligible Player's Website account. If the £50 Bingo Bonus does not appear automatically, please contact our Customer Services team before playing again.The £50 Bingo Bonus must be claimed, used and its Wagering Requirements (outlined below) met within seven (7) days of it becoming available in an Eligible Player's Website account or it may be forfeited.Eligible Players will only be permitted to withdraw any remaining pending winnings from their "Bonus Balance" wallet and the "Pending Winnings" wallet once they have satisfied the Wagering Requirements explained below.Whilst you can withdraw the funds in your Cash Balance wallet at any time before the necessary Wagering Requirements have been met (whilst your £50 Bingo Bonus is Active), this will mean that you fully forfeit any winnings sitting in your Bonus Balance wallet and/or your Pending Winnings wallet. The Wagering Requirements for the £50 BingoBonus are as follows:A WAGERING REQUIREMENT OF 4 TIMES THE £50 Bingo Bonus AMOUNT = £200 Therefore, an Eligible Player must wager £200 in bonus funds on any bingo game to satisfy the £50 Bingo Bonus Wagering Requirements.The £50 Bingo Bonus Wagering Requirements must be met within seven (7) days of the £50 Bingo Bonus being credited to an Eligible Player's Website account otherwise any funds sitting in an Eligible Player's Bonus Balance wallet and/or Pending Winnings wallet will be forfeited.There is no cash alternative to the £50 Bingo Bonus. Once a Qualifying Wager is made, an Eligible Player will be able to claim 40 free spins that can only be used on the Website slot game "Big Banker" (the "Free Spins").The Free Spins can be claimed by visiting the "My Free Spins" section of the "Promotions" tab on the Website.The Free Spins are valued at £0.10 each.Once claimed, Free Spins will be automatically credited to the Eligible Player's account. If the Free Spins do not appear automatically, please contact our Customer Services team before playing again.The Free Spins must be claimed and used within seven (7) days of them becoming available in an Eligible Player's Website account or they may be forfeited.The Free Spins have no Wagering Requirements.Any winnings from the Free Spins will be paid as cash into an Eligible Player's website account.
Gala Bingo Free Bingo & Newbie Rooms
You'll be pleased to know that one of the best features on Gala Bingo is their free bingo game! They have a dedicated room for free bingo games, serving free bingo every six minutes all day every day! There's a massive £6K in prizes, so not only is it free bingo but you can actually win cash when you play.

Its available every single day with a total of 240 free games played daily in the Daily Free Bingo Room. There's even a Boosted Hour at 18:30 that guarantees all players a prize. Between 18:30 and 19:30 (UK Time) the Daily Free Bingo games will include a guaranteed prize pot (the "Guaranteed Wins" pot) which will be shared among all the participating players who have not won a prize during the game.

This is a really nice free bingo offering! Free Bingo is available for all players with any amount of funds in their account, so you do have to have made a deposit before you can access it, but its an always feature that we love for anyone who just wants to jump on and have fun.

Newbie Rooms
If you look across the site, you won't find a newbie room in the lobby and oddly nothing from the search tool which was a bit poor. But after some Googling we managed to come across some hidden info on a specific newbie room which is accessed as a reward for qualifying as new customer. Gala bingo is one of only a handful of sites with newbie bingo rooms so this is a real treat.

Enjoy two 2-hour sessions in the first 3 days you're registered with Gala Bingo. There's £400 cash a day to be won. A result for those who love a newbie room. You'll be able to access the rooms once you have qualified as a newbie with information likely to be send out to you on how to access the reward.
More Gala Bingo Welcome Offers
Gala Bingo only has one welcome offer, as is typical of a good bingo-focussed site. They do have sister sites Gala Spins and Gala Casino that have their own welcome offers, but if you're a true bingo fan, you'll love that fact that Gala have decided to keep these properties separate.

We do know that bingo players love playing slots though, so the good news is that their bingo welcome bonus allows you to play both bingo and slots with just one offer. You get free spins as part of that welcome offer, though you do have to wager £10 on bingo to get it, which may not be ideal for slots players. If Gala Bingo isn't striking it quite right for the slots fans, then do check out their sister sites, Gala Spins or Gala Casino. These sites are slots and casino focussed with their welcome offers dedicated to slot and casino games only.
Gala Bingo Technical Specifications
| | |
| --- | --- |
| Site Name | Gala Bingo |
| Software | Electraworks |
| Welcome Offer | £50 Bingo Bonus & 40 Free Spins |
| 1st Deposit Bonus | 30,000 pts |
| No Deposit Bonus | None |
| Free Bingo | Yes |
| Promotions | Yes |
| Min. Deposit | £5 |
| Min. Withdrawal | £5 |
| Deposit Methods | |
| Established | 1990 |
| UK Gambling Commission | License number 39069 |
Gala Bingo Review: Existing Player Promotions
Gala Bingo has a fair selection of additional promotions for existing players. You can find them through a dedicated promotions page titled My Rewards or through the gala rewards page. It's your average player rewards section with access to more freebies outside of your standard welcome bonus. We have to admit on first viewing, it didn't blow us away like some other top online bingo sites promotions pages that are exploding with deals.

As a rewards page goes, it's a little underwhelming, lacking the lure of the prize pot bonanza that some other bingo sites present on their promo pages. With that said, they do still offer promos, which is obviously a positive for any existing Gala Bingo players looking to top up their play with some bonuses.

Opt-in is the key here though. These are mostly opt-in promotions that require you to accept promotional communication through email or text or other methods. You qualify for promotions as you're allowing Gala to message you with updates. Now, we wouldn't say you're spammed with promos, but with daily prizes and rewards available, do expect a daily email or text with info on these daily promotional games.

The Gala rewards club gives you the chance to win free spins, guaranteed prizes, extra tickets, and cashback. That's actually quite a fair amount on offer; we just feel the promotions page could be a bit more explosive. In contrast, the homepage sliding banner is packed with the same player deals but jazzed up in a really well-presented hero header area. If you're not sure what's going on that day in terms of deals and promos, head over to the homepage and let the slider show you what's on offer.
Drops & Wins. These slot tournaments run every week, and give away cash prizes. Opt in by just playing on any qualifying slot, there isn't any minimum spend. There are also daily and monthly prizes!
Daily Free Spin. Spend £10 or more on slot games in a day and you'll get a free spin on the prize wheel. The spin is only valid that day, so don't let it expire! Prizes include cash and free spins!
5K Free Spins. This daily offer requires that players opt in to compete in the tournament. Prizes of up to 100 free spins can be won, with 5000 free spins given away in total.
Match 5 Bingo: Fire up free fun on Match 5 Bingo where you could win up to 20 Bingo Tickets or £100 cash prize! Mark off all five numbers on your ticket for a guaranteed prize—the quicker you match, the bigger your reward.

Live Daily Show: Grab LIVE Gala gang action every day! Ready for an hour of different cash games, chances to win free tickets and more?
Look out for our Weekly and Monthly Specials with boosted prize pots, plus our big Monthly Spectacular
These promotions were all correct at time of writing, although do bear in mind that offers change.
Gala Bingo Existing Player Promotions rating: 6 / 10
Gala Bingo Review: VIP & Loyalty
Gala doesn't have what would be regarded as a traditional VIP or loyalty program. As a whole, we're actually seeing big brands move away from this concept as it was a common theme that VIP meant you were probably a high-rolling spender. While it might seem cool to be a VIP of a catchy bingo brand, sites were not rewarding big winners with VIP treatment; they were incentivizing losses - so it's good to see that Gala has actually opted against this tactic in their efforts to offer loyalty rewards.

Instead, as we've mentioned previously in this Gala Bingo review, the Gala Rewards scheme gives a little something back to players for their activity on the site. Its system is a little more complicated than some, but what's especially nice is that it has rewards for BOTH bingo and slots players! Once you have made a deposit and opted in to rewards, you can enjoy treats like a share of the weekly free spins rewards, bingo cashback, a rewards wheel, and daily bingo ticket rewards!

For slot players, if you spend £10 on slots, Slingo, or scratch games during the week (Friday to Thursday), you will be entitled to a share of that week's 100,000 Free Spins Rewards Share Pot!

These are some decent rewards, and though the system for earning them is a little complicated (different rules for different rewards), it's great to see rewards available for both bingo and slots players.
Gala Bingo VIP & Loyalty rating: 7 / 10
Gala Bingo Product Review
Gala Bingo's site is really easy to find your way around. There's a modern trend for stripped-back design and simple layouts, and Gala has definitely followed suit with its product, even down to the fact that they have decided to separate their casino products from the bingo. A move which we think is a real homage to the proper bingo fan!

If you're new to bingo, it's uncluttered and less intense than some of its rivals, who seem to blast you with slots, sports, and casino on every other tab! Gala Bingo is a true online bingo site and not just an overloaded gambling platform. By simplifying the site or app, we think Gala is delivering a great product.

Gala Bingo is an Entain Bingo site and underneath the layers of the website, there's a software brand called Electraworks powering this popular bingo platform. Electraworks bingo sites are owned and operated by the Entain network. With that partnership, you're getting the latest games, you're getting reliability, and you're getting security.

The only thing that slightly caught us out was promotions being found under "My Rewards," but it didn't take us long to work out why. Traditionally, sites have a promotions page that can be seen by members and non-members, so you can get a taste of the deals on offer before joining. Gala wants you to feel like you're part of a membership program with your own rewards; I imagine this may have come from their days operating community bingo halls.

Gala Bingo Product rating: 7 / 10
Gala Bingo Branding Review
Gala has gone through some design shakeups over the years. They've always kept their big bold blue and yellow theme, but have recently toned down the brashness of the color scheme and opted for a more subtle white background with the branding woven into the structure of the site.

This is common now for sites who are more understanding of their players' need for speed! Overly designed sites can be slow, so simple layouts are preferred, especially for those who are playing on mobile data.

The site works smoothly as you flick around; it's fast and responsive. That famous blue and yellow design is present throughout, tying everything together nicely. Most bingo lobbies look like eCommerce sites nowadays, so you feel a sense of familiarity when you browse the site, with prices and players labeled clearly throughout the tiled lobby design.

Pinned rooms are listed first (these are popular and important bingo rooms), and then the rooms come in order of the next game to run, which is very handy when you just want to jump in and play something that's about to start.

Gala Bingo isn't overrun with a lot of tabs, which is a breath of fresh air from the overly "casino-centric" sites that have every available form of gambling stuffed into their navs. It's a really nice proper bingo site, very simple, and very easy to play on.
Gala Bingo Branding rating: 7 / 10
Gala Bingo User Experience Review
Gala has a really simple site. If you're new to the site or to bingo, everything you need starts with the bingo rooms tab where you select what you want to play. The rooms are ordered according to play times so you can choose a game that's starting soon, or you can select to pre-buy for a later session.

The prize pots are labeled on the card, which is the total amount of available prizes for that room—it's usually an odd number that keeps changing as more tickets are bought throughout the day. The prize for winning a game will be displayed as a smaller round whole number, somewhere on the card.

Check for player numbers on the room listing before you go in. While bingo is random, you might eventually get a feel for the rooms you prefer to play at based on prizes and player numbers, and Gala has everything really well labeled and clear.

Gala lets you buy into discount packages of games from the bingo rooms tab, which is a really thoughtful addition in our opinion. They're a nice collection of pre-set games that you can buy at a slightly discounted price. The discount is obviously favorable in terms of cost, but you are restricted to the games in the package.

Similar to packages, sessions are a selection of games grouped together in a bundle that you play consecutively. This is great for those who might actually choose a period of time to play in and then set aside the time to commit to that session. But it's restricting for those who just like a cheeky go, so only buy sessions if you're OK committing to the timeframe. You can naturally let the games go on without you being there, but that's not really fun... or is it?

Don't forget if you're going to join, click our join button below to grab yourself the latest Gala Bingo new player bonus
Gala Bingo User Experience rating: 7 / 10
Gala Bingo Rooms Review
Gala Bingo has 25 rooms currently, which is a huge lobby filled with options. So a bingo room is where you play your bingo game. Rooms are often themed and can be distinguished by their name and their game type.

There are TV show themed rooms like Deal or No Deal, the TV Specials room, and Coronation Street Bingo. They can come in variants of bingo game like 90 Ball or 75 Ball or other.

The bingo rooms tab on gala bingo is essentially the bingo lobby as it has been traditionally named. If you want to play a popular game check out the pinned rooms that are normally locked in as the first available on that page. The rest of the rooms are in time order, showing the games will be starting next.

Gala bingo games are powered by the software giant Playtech (Formally Virtue Fusion) as are some of Gala bingo's alternative sites. More than 100 of the industry's biggest and best-known bingo and gaming operators have partnered with the Playtech Bingo network including Gala Bingo. Software networked rooms often lead to bigger and better prizes, so whilst its sounds off putting, its a bonus that you're part of an established network of bingo fans across a range of platforms.
Gala Bingo Rooms rating: 8 / 10
Gala Bingo Best Bingo Rooms
Fluffy Favourites BingoIn this room, you match characters from the beloved Fluffy Favourites slot, rather than numbers. If you win the full house, you get to play the special Toy Grabber bonus round for the chance of extra prizes. We unfortunately didn't get the chance to try this out, but it sounds a lot of fun!
Bingo Boom90-ball bingo is always fun, but in this room, the winner of the full house gets the chance to increase their prize by 2x, 3x, or 4x.
All SortsAh, free bingo. We love to see it! This room has jackpots on the smaller side, and over 200 players when we jumped in, so the chance of winning is quite low and the prize is only small. Still, we love just hanging out and watching the numbers roll in, and since we weren't risking any money, it was a nice way to chill out for a bit. TV SpecialsThis room flicks between Emmerdale and the Chase bingo. We love the Chase and were excited by the prospect of taking on the Chaser! The room was fun and not very busy, with a decent jackpot.
Gala Bingo Chat Review
City RoomThere were a few players in here, around 10 or 15 when we played. There wasn't a lot of chat; a few players dropped a 'well done' or let everyone know when they were '1TG'.
RushThe bingo games start every two minutes in this room, and plenty of players dropped in and out, meaning that most chat was about the game, rather than a longer conversation about other things.
Slingo BingoA wheel spins to reveal the numbers in this 75-ball game. There was a more lively chat in this room, and everyone messaging seemed nice and upbeat.
Coconut IslandThis room is on Gala Bingo only, and is a 50-ball game. We loved the chilled-out tropical vibe of this room, and did chat a little with the other players in the room.
Gala Bingo Games Review
Gala Bingo has a very impressive collection of bingo games, when you land in the bingo rooms section you can clearly some of the popular games labelled like 90-ball and 75-ball bingo, but there is also 80-ball, 50-ball, 36-ball, and 30-ball too!

If you're new to bingo and don't really know where to start, 90 ball bingo is the classic version of the game popular in UK bingo halls. You've more than likely seen a classic 90 Ball bingo card at some point, so you might choose to start with a 90 ball game like Bargain Wins which is packed with players, tickets are low cost and prizes are higher than average.

The great thing about online bingo and virtual gaming sites like Gala bingo, there's no real skill to the game. It's a lottery, so if you're not entirely sure what to do, you can use their welcome offer to join with a low spend and try the games. Most online bingo dabbing are automated, so the game actually runs its own course and you're not expected to sit there dabbing.

The games have lots of cool little adds ons that we really appreciate as bingo fans like 2TG payments if you missed on a Jackpot, or sometimes you get a Roll On chance to win a small prize if the next numbers after a house are the ones you need - great incentives to enhance the basic principles of the game!
90-Ball90 ball bingo is by far the most popular version of the game in the UK. It has been played in Gala bingo halls across the country for more than half a century and continues to be popular with online players. Gala bingo has a collection of around 14 90-Ball bingo rooms that include a £100K Prize Pot, Coronations Steet Bingo, Bingo Bargains & 1p Bingo called Penny Bingo.

80-BallA little different with only one room available called, wait for it... 80 Ball room. Sometimes called Swedish Bingo. 80 Ball Bingo is a bit of a throwback to the classic bingo halls from back in the day. Each ticket comprises sixteen squared numbers, split into four columns and four rows. In addition, each group of 20 (1-20, 21-40, 41-60, 61-80) is colour-coded, making it easier to track numbers (plus, it looks pretty cool). There are multiple winning patterns in 80 Ball Bingo. We've got the old faithful: a horizontal, vertical, or diagonal line on any row. Then there's the four-corner challenge, synonymous with 80 Ball Bingo.

50-Ball50 Ball Bingo is a fast, fun and an exciting game that both experienced players and newbies. 50 Ball Bingo is faster than your average online bingo game, so perfect if you fancy a quick cheeky game. Each ticket has ten numbers, and you have two ways to win: dab a full house or mark one full line off your ticket. Gala bingo have quite a cool 50 ball offering, put some headphones on and listen to some tunes in the Bingo Beats Chakra Room and the Bingo Beats Love Room
36-BallThe speed of the game is what makes 36 Ball Bingo different. Being in and out in a couple of minutes appeals to players who prefer fast gambling fun. And better yet, this is the popular Fluffy Favourites room. But oddly NO BALLS here, Instead of numbered balls, your card will be filled with characters from the Fluffy Favourites slot. It's a cute alternative to typical number-based bingo and if you're a nostalgic fan of this hugely popular slot game, you'll love this bingo game as well. 30-BallThis is SPEED BINGO at its best!!! 30 Ball Bingo is super easy to play, so it's the perfect starting point if you're a bingo beginner. Gala call it "Bingo with no-nonsense, rapid-fire gameplay". 30 ball game tickets have a 3x3 grid with nine random numbers ranging from 1-30. The numbers shared across the grid are divided into three groups of ten: 1-10, 11-20 and 21-30. Mark off all nine numbers on your card to win
Gala Bingo Games rating: 8 / 10
Gala Bingo Jackpots
Standard Bingo Jackpots
Most of the games at Gala Bingo have jackpots, some have multiple jackpots. If you're not familiar with how it works, they're cash pots that are progressively collected as people play, and they build up into big prizes. Gala has a great product which attracts lots of players, so you can expect loads of different jackpots to accumulate. They have daily and weekly giveaways that can be hundreds of pounds up to big thousands of pounds jackpots for winning under a certain number of calls.

£100,000 Jackpot
Gala has a high-end jackpot bingo room called £100k Bingo, where the prize is... you've guessed it, £100,000. There's normally quite a big build-up to the game with lots of time to buy in with tickets. So it can be listed for weeks before the actual event - the game date is always live on the room card.

With an average prize fund of around £50-£100 in other rooms, you must appreciate that this infrequent event is much like a lottery. You can buy in with tickets costing as little as 10p, but do expect the players' numbers to be in their thousands.

Our advice would be to have a go at least once and just play for the luck of winning a life-changing amount with a very small dabble - like a raffle or lottery! There's no strategy for these kinds of jackpot games because of the huge numbers of players who buy in, so you're unlikely to win. But just having 1 or 2 cheap tickets if you have that balance spare in your account is well worth a go, in our opinion.

Rolling Pots
If you're a fan of slots, there's a section called Rolling Pots where you'll find slot games with rollover "Must Go Soon" jackpots. Now these are prize pools that must be given away before a time frame or they hit an upper value, so just be wary that everyone can see that limit. They're quite alluring as you feel like you're offered a better chance of winning, but remember there will be lots of people on the network also trying to grab that jackpot as well.
Gala Bingo Jackpots rating: 7 / 10
Gala Bingo Penny Bingo
The Penny Bingo room at Gala Bingo is hugely popular and offers bingo for just 1p per ticket, all day every day. There are 4 jackpots with prizes ranging from £25 for an hourly prize game, a daily Jackpot of £150, a monthly prize game of £5,000 and then there's a progressive Jackpot that just builds until someone wins a game in 32 calls or less, its currently at 39k but this changes as its either won or constantly accumulating.

Other rooms do also have occasional penny bingo games, including the Dreams night-time room, Gala Live, and Bargain Wins. Gala clearly know how popular penny bingo is, so there are plenty of chances for 1p tickets on Gala Bingo games. Head over to the prebuy area of each room and you can see when the 1p tickets are available.
Gala Bingo Penny Bingo rating: 8 / 10
Gala Bingo Side Games Review
Side games are not available on Gala Bingo. There are plenty of slot games on the site, but you can't play them whilst in the bingo rooms. It's one or the other, unfortunately! This is a bit disappointing, as most competitors have bingo room mini side games.

If you like live games, Gala do have a collection of funky live dealer games in a section called Game Shows. If you're a traditional game show fan, then you'll probably feel like these are a little cheesy. They're pretty much revamped versions of casino games like roulette but a large wheel of fortune or a live dealer slot. It seems a little odd having these labelled Game Shows, when Gala has such a rich history of actual Game Show themed offerings like Deal or No Deal & The Chase in their actual bingo products.
Gala Bingo Slot Games Review
Gala Bingo has over a thousand slot games available! This truly jaw-dropping catalogue can be searched using the search bar, or you can select Megaways games, Slingo, Jackpot slots, casino games, and more categories to find the kind of games you like. There's a section for just ITV branded games, like the Chase and Coronation Street, and many slots are unique to Gala Bingo- these have a little 'Exclusive' sticker on their logo. 'Gala Gold' is the section that houses unique games. If you've never played Slingo, you're missing out! The basic game is a mix of bingo and slots, where you spin to reveal numbers, and then mark them off on a grid. However, there are dozens of variants now! Many are themed after TV shows or other slot games, like X Factor or Cleopatra. There is a whole section for Slingo games on Gala Bingo.

We know bingo players love slots, but if you prefer a more casino like feel to your game play, you can head over to Gala Casino or Gala Spins which are separate sites aimed at delivering a different product to that of the Gala Bingo offering. Its a nice touch from Gala in our opinion, meaning you feel like a bingo customer rather than a gambler! Gala keep their product assets separate unlike some sites that chose a more saturated all-in-one approach.
Gala Bingo Top Slot & Games
Fluffy TooThe sequel to wildly popular Fluffy Favourites, Fluffy Too sees the cuddly critters take a trip to the seaside. Get 3+ scattered coins for the Coin Pusher round where you can win 100x your bet, or get 3+ elephant scatters to trigger up to 25 free spins. The elephant is also wild, and will pay double for any wins it makes.
Big Bass BonanzaGrab your best fishing rod and reel in the excitement with this fun fish-themed slot. The bass symbol is the scatter, and landing 3 or more will trigger free spins. The wild symbol (fisherman) only appears during free spins rounds. There is also a fish money symbol which has cash values attached!
Action Bank
This slot isn't for those seeking something cute and cuddly. With a steel-looking background and 'losing' symbols, Action Bank is definitely for those who like their slots a little tougher. The 'O' symbol won't pay out, but if you're lucky, it might turn into a bank symbol instead. Five of those, and you'll be heading for the chance to win free spins or a mega multiplier.
Mustang Gold
This slot features all the charm of the American West, with elegant horses and golden horseshoes included in the symbols. The Mustang Gold logo is wild, and the campfire is the scatter. Get 3 or more campfires anywhere on the reels for free spins!
Gala Bingo Additional Games rating: 8 / 10
Gala Bingo Mobile and App Review
Gala bingo has an award winning app which pretty much replicates the style of play that you might expect from a modern mobile product. Gala is one of the best bingo sites in the UK for mobile play. It comes loaded with bingo rooms, free bingo games and cash bingo games, on top of slots, slingo, roulette, scratchcards, jackpots, Megaways, instant-wins, and other exciting casino games.

They have over 500k downloads listed in the Google Play store, Apple doesn't share this level of information. In total both apps have clocked up over 30k reviews and ratings with an average score of 4.4 out of 5 which is very impressive!

You can play for cash, or actually, if you're a fan of free games on your phone, there's the regular Gala free bingo room that helps Gala pretty much double up as a free to play app as well pay to play. If you're already a paying player elsewhere in the app, you can even win cash prizes on the free games - IF YOU'RE VERY LUCKY!!!!

There are naturally mixed reviews from users of Android's Google Play Apps and Apple app players, afterall people rarely review products that work as normal. But our players have reported some slow loading and glitchy behaviours. All these are common in modern tech, there are thousands of people logging in at the same time, so systems can be laggy from time to time. And some games are networked meaning they're being access by other platforms which is also common.

If you're not a fan of installing apps to your device, Gala Bingo on mobile is no different. You're accessing all the same areas of the app in a web based format, which is basically all an app is, except its not stored on your phone. We couldn't find any differences in using a mobile version over the app other than a few notifications here and there, where we enabled those in the app.
Gala Bingo Mobile rating: 8 / 10
Gala Bingo Responsible Gambling
On Gala Bingo, there are lots of tools to help players gamble responsibly. There are spending controls, account closure, a budget calculator, and more, all designed to help you stay in control of your time and money and ensure safe play.
Tools they offer on Gala Bingo include:

Self-Assessment Tool – use this to figure out if you're gambling safely by answering a few questions.Reality Check – you can set these to pop up and remind you to take a break from playing.Track Your Activity – here you can see your profit/loss, as well as your deposits vs withdrawals, to keep track of your spending.Spending Controls – Deposit limits, max stake, and curfew are available here to help you.
Gala Bingo Responsible Gambling rating: 8 / 10
Gala Bingo Banking Review: Available Payment Methods
Gala have a good selection of payment methods from secure and trusted payment providers. Its quite a modest list, but in our experience, too many payment options can be confusing if you're not that tech savvy.

Remember if you're a UK player, you can't use a credit card and in our opinion, you shouldn't be gambling on credit anyway, so Debit Card payments using only what you can afford to spend is the recommended approach for responsible spending.

eWallets like PayPal, Skrill and Paysafecard are actually good options for online spending as they often have security features dedicated to online transactions. But they quite often come with additional transactions fees somewhere within the process of depositing to withdrawal. So do check out the fees with that provider if you chose an eWallet as your payment processor for gala Bingo.
Available Payment Methods:
| | |
| --- | --- |
| Money Bookers / Skrill | |
| Maestro | |
| Visa | |
| Master Card | |
| Paypal | |
| Paysafe card | |
| Fast Bank | |
| Ecocard | |
| Apple Pay | |
Gala Bingo Payment Methods rating: 8 / 10
Gala Bingo Banking Review: Depositing
Gala Bingo offers a good choice of payment options for deposits, including debit cards, PayPal, Paysafecard, and Skrill. Depositing on Gala Bingo was simple; just a few steps to choose deposit method and amount is all it took. There's a quick link on every page to deposit, which can be a little too encouraging, but its also convenient if you've just logged in and want to access the deposit section really quickly.

If you're depositing for the first time in order to earn your bonus, remember there's a minimum amount required to qualify. So be sure that you are hitting that threshold if you're set on claiming the Gala new player welcome offer. The minimum deposit is just £5 for normal play, which is as low as we've found on the UK market. But that minimum first deposit to claim the welcome bonus must be at least £10.

And again, if you're new to Gala bingo, remember you can set deposit limits at any time to restrict your spend. Even if you're a responsible gambler, we highly recommend setting deposit limits. Once those limits are in place you never have to worry about how much could spend in those time frames.
Gala Bingo Depositing rating: 7 / 10
Gala Bingo Banking Review: Withdrawals
Withdrawals can be made on Visa, Mastercard, Maestro, PayPal, Bank Transfer, Apple Pay, and Instant Bank Payment. The fastest time is Instant Bank Payment- which claims to be instant- and the Visa Fast Funds and PayPal methods are also within 8 hours. Bank transfers take the longest time- up to 4 banking days. This is still a great deal faster than many competitors, but isn't the fastest we've seen. Overall, an impressive time is promised for withdrawal, regardless of payment methods!

Do remember in most cases, bingo platforms will only allow withdrawals back to the provider that you used for the deposit. If you weren't aware, this is for anti-money laundering purposes, to stop people spending with one bank and moving any remaining cash or winnings to another.
Gala Bingo Withdrawing rating: 8 / 10
Gala Bingo Customer Service Review
Behind Gala bingo is an impressive portfolio of gambling products from the one of the biggest iGaming organisations in the World, in Entain. They have a minimum standard of customer support to adhere to or their reputation could be quickly tarnished. With that said, Gala Bingo offers customer support through an impressive variety of channels and we were very satisfied with the service we received when we tested this out.

So you can get in touch via the site's live chat, email, or private message through Facebook, Twitter, or Instagram. The live chat offers you a chatbot first, but you can quickly get connected with an agent if this doesn't help you. They're also quite responsive on 3rd party consumer feedback websites, where they appear to log in every so often to respond to common complaints. When we used the live chat, they were quick to respond, resolving our queries in just a few minutes. The chat agent was helpful and polite, and it felt like we were messaging a real person, not just receiving scripted replies.
Gala Bingo Customer service rating: 7 / 10
Gala Bingo Available Support
| | |
| --- | --- |
| Phone Number | 0800 294 7294 |
| Email Address | Online Form |
| Live Chat | Yes |
Conclusion
Gala Bingo is a huge UK brand that is certainly a household name. With that in mind, we went into it with high expectations, and Gala Bingo did not disappoint. The site is packed to bursting with games of all kinds; there are far more varieties of bingo and slots than we usually see on sites. The rewards aren't bad, and the site is very easy to use. It makes for a great experience overall, with no stumbling blocks to hinder a player's fun.

If you like Gala bingo, but want to try out another site similar, you can check out our Gala bingo sister sites page for more sites like Gala bingo. here you'll find a collection of similar sites by network and software with their listed welcome bonusses.
Gala Bingo Overall rating for Gala Bingo: 7 / 10