Monopoly Casino: A Review of Offers, Bonuses and Promos
Play £10, get 30 Free Spins or £50 of Free Bingo
Free daily game
Choice of welcome offer
Cute board game theme
Fast customer service
New members only, must opt in. Min £10 deposit & wager. 30 day expiry from deposit. Free Spins on MONOPOLY Paradise Mansion. 1p coin size, max lines. Visit site for full Rules*.
Monopoly Casino Review Intro
Monopoly Casino welcomes players with a vibrant blue and green theme, mirroring the beloved board game's colours. The site's design is eye-catching and nostalgic, appealing to fans of the classic Monopoly game and the slot games that followed. Monopoly is a big brand name, giving the site a familiar feel from the moment you land, and it's on a large network of well-known sites including Virgin Games, ensuring reliability.

In terms of user experience, navigation is smooth, making it easy for players to find their favourite games. The site's clear layout adds to its charm, especially for beginners. With thousands of slots, plenty of bingo rooms, and exciting promotions including daily free games, Monopoly Casino provides a cosy, friendly atmosphere for every kind of player. If you're seeking a stress-free, familiar gaming experience, Monopoly Casino is a good choice.
Our Monopoly Casino Review Score
We checked out every bit of Monopoly Casino's website and reviewed everything to give an overall rating for the whole site. See our scores for each facet of the site, and how we found Monopoly Casino overall in terms of user experience. This will help you know if Monopoly Casino is right for you! Here's our overview of every part of Monopoly Casino.
| | |
| --- | --- |
| Overall Score | 8 / 10 |
| Welcome Offer Rating | 8 / 10 |
| Existing Player Promotions Rating | 8 / 10 |
| VIP & Loyalty Rating | 8 / 10 |
| Product Rating | 9 / 10 |
| Branding Rating | 9 / 10 |
| User Experience Rating | 9 / 10 |
| Bingo Rooms Rating | 8 / 10 |
| Bingo Games Rating | 7 / 10 |
| Additional Games Rating | 9 / 10 |
| Mobile Rating | 8 / 10 |
| Responsible Gaming Rating | 8 / 10 |
| Jackpots Rating | 8 / 10 |
| Penny Bingo Rating | 8 / 10 |
| Payment Methods Rating | 7 / 10 |
| Depositing Rating | 7 / 10 |
| Withdrawing Rating | 7 / 10 |
| Customer Support Rating | 9 / 10 |
Monopoly Casino Pros & Cons
Get all the info fast, and see the pros and cons to playing on Monopoly Casino with our concise list here:
Free daily game
Choice of welcome offer
Cute board game theme
Fast customer service
No bingo newbie room
Debit card and Apple Pay deposits only
No phone support
Monopoly Casino New Customer Welcome Offer
Play £10, get 30 Free Spins or £50 of Free Bingo
New members only, must opt in. Min £10 deposit & wager. 30 day expiry from deposit. Free Spins on MONOPOLY Paradise Mansion. 1p coin size, max lines. Visit site for full Rules*.
Monopoly Casino Offer Breakdown
When you join Monopoly Casino as a new player, you get to choose between two offers. You can either get free bingo tickets or free spins for the Monopoly Paradise Mansion slot game. You have to decide when you sign up. Whichever you pick, you'll get them after you've spent £10 on any game on the site. Once you make your first deposit, your choice is final, so be sure before you deposit! The great thing? If you win anything with the free spins or tickets, you get the money in cash without any extra wagering requirements. You don't have to bet it again to convert it; it's all yours to keep.
Monopoly Casino Welcome Bonus Our Verdict
Monopoly Casino's welcome deal is perfect for new players. You can pick 30 free spins or 50 bingo tickets, making you feel valued and appreciated right from the beginning. The best part? You only need to spend the site's minimum deposit of £10 to enjoy this offer. You can use this money on any game you like, so no need to worry that you'll have to endure a boring game to qualify.

Even better, the winnings from these freebies are in cash! That means whatever you win is real money, yours to use however you want. Monopoly Casino's welcome offer is great not only because it lets you choose, but also because it's easy to understand and claim. It makes starting your bingo or slots journey a truly enjoyable experience.
Monopoly Casino Welcome offer rating: 8 / 10
Using The Monopoly Casino Welcome Bonus
Getting the welcome offer at Monopoly Casino is simple, and it doesn't take long to do:

1. Sign up on the site and create an account

2. Choose your welcome gift while signing up

3. Deposit your money. Remember, your choice is final after depositing

4. Play games you love, spending £10 within 30 days

5. Once you spend £10, your chosen bonus will be added! Enjoy your freebies within 30 days of signing up so that they don't expire
It's incredibly easy, and Monopoly Casino guides you during registration and when you deposit, so you won't miss out on your welcome gift.
Monopoly Casino Welcome Bonus Terms
New members only, must opt in. Min £10 deposit & wager. 30 day expiry from deposit. Free Spins on MONOPOLY Paradise Mansion. 1p coin size, max lines. Visit site for full Rules*.
1. If you are a new member, you will be eligible to receive either:a) 30 free spins (1p coin size, maximum lines) for the game MONOPOLY Paradise Mansion ("Free Spins");orb) 50 free bingo tickets ("Free Bingo Tickets") on applicable games (see section 5(b) below).2. To be eligible for this promotion, you must successfully complete the following criteria (the "Qualifying Requirements"):a) register as a member of this website, which means that you must accept our website terms and conditions (which can be found here);b) opt in to this promotion by selecting either the Free Spins offer or the Free Bingo Tickets offer before making your first deposit;c) make a first deposit of at least £10; andd) wager at least £10 in cash on any game(s).3. You have 30 days from when you opt-in and make your first deposit to complete the remaining Qualifying Requirements and play any Free Spins or any Free Bingo Tickets before they expire.4. If you do not opt in to this promotion by selecting either Free Bingo Tickets or Free Spins before you make your first deposit, you will not be eligible to opt in to this promotion retrospectively. Your choice is locked in at the point that a successful first deposit is made, and cannot be exchanged or altered after this time.5. If selected, Free Bingo Tickets:a) have a maximum value of £50 (if used to buy £1 tickets) and a minimum value of 50p (if used to buy 1p tickets). Free Bingo Ticket availability at maximum value is based on bingo game 'max ticket' restrictions per game, and game schedule;b) can be used on any bingo game on the website, with the exception of Session Bingo. We reserve the right to amend these Rules in the future to exclude additional bingo games, including new bingo games but any such amendment will not impact any player who has already opted in to the promotion prior to the amendment coming into effect; andc) can only be used for buy-in to the next game available at the time of ticket redemption, and not to advance buy or to bulk buy tickets.6. You can only take part in this promotion once. If we detect that any member has created more than one account (including in order to take part in this promotion multiple times, in breach of these Rules) we shall be entitled to close any such accounts (and void any Free Spins, Free Bingo Tickets and related winnings).7. Your deposit balance and winnings (if any) are withdrawable at any time during this promotion, subject to our rights to temporarily withhold payments as further set out in section 5 of the website terms and conditions.8. We aim to make Free Spins or Free Bingo Tickets available instantly when you complete the Qualifying Requirements, but please allow up to 72 hours in the case of technical difficulties.9. If you opt in to this promotion, you agree to comply with the website terms and conditions and these Rules at all times. If (based on reasonable evidence) we find that you have seriously breached the website terms and conditions or these Rules, we may render Free Spins, Free Bingo Tickets and related winnings in your member account void, and we reserve the right to close your member account.
Monopoly Casino Free Bingo & Newbie Rooms
Monopoly Casino has free bingo games all day long! These games happen in the Bingo Times room at 5, 25, 35, and 55 minutes past every hour from 10am to 10pm. Each player can get up to six free tickets per game, so it's fair. To join, you need to have bet at least £2 in the past 7 days on any games on the site. This rule ensures that players who really play on the site get to enjoy the free bingo, preventing misuse.

Although there isn't a dedicated newbie bingo room, you can jump into any bingo room right away. Plus, as a new player, you can even get free bingo tickets as part of your welcome offer. Monopoly Casino makes sure bingo players feel completely valued, despite it being a casino site!
More Monopoly Casino Welcome Offers
At Monopoly Casino, when you sign up, you can choose between two great welcome offers. Just spend £10 on any games on the site to claim the bonus, and you get to choose between two awesome options: either 30 free spins on the Monopoly Paradise Mansion slot or £50 worth of free bingo tickets. The best part? You can use the Free Bingo Tickets on any bingo game (except Session Bingo) on the website. It's super generous and offers you plenty of choices. Just remember, you have to use the tickets in the next game in your chosen room; you can't use them to prebuy tickets for later. Monopoly Casino wants to make sure every player has a fantastic start on their site!
Monopoly Casino Technical Specifications
| | |
| --- | --- |
| Site Name | Monopoly Casino |
| Software | |
| Welcome Offer | Play £10, get 30 Free Spins or £50 of Free Bingo |
| 1st Deposit Bonus | 30,000 pts |
| No Deposit Bonus | None |
| Free Bingo | Yes |
| Promotions | Yes |
| Min. Deposit | £10 |
| Min. Withdrawal | £10 |
| Deposit Methods | |
| Established | 2020 |
| UK Gambling Commission | License number 38905 |
Monopoly Casino Review: Existing Player Promotions
Monopoly Casino brings fantastic deals to its players, especially in the Free section. Once you deposit just £10 or more, you unlock a lifetime of fun with free slot games every day! It's endless entertainment without extra spending.

But the excitement doesn't end there! The promotions page offers even more thrills, including a prize wheel, game of the week, tournaments, and more. Every day, new offers keep the excitement fresh. With these free games and thrilling promotions, Monopoly Casino is a choice destination for endless fun and excitement. Whether you're a new player or a regular looking for a new site, there's always an intriguing promotion waiting for you at Monopoly Casino.
The Wheel of Chances - Each month, there are 2000 winners, with Box Bonanza prize draws each week. Spin the wheel to opt in and see what you'll need to do to earn a prize draw entry.

Game of the Week - Wager £30 on the featured game to earn an entry to the draw each week. The game will change every week, so check back to see the new featured slot.

Slot Masters Free Tournament - Play the free-to-play game Cash in the Keep during tournament times for your chance to climb the leaderboard and win free spins or cash.
Monopoly Casino Existing Player Promotions rating: 8 / 10
Monopoly Casino Review: VIP & Loyalty
At Monopoly Casino, rewards are simple and available to all players who have made a deposit. Instead of a loyalty scheme tied to spending, they offer a daily free game. Once you've deposited, you can play this game every day forever, completely free. While it may not guarantee rewards like a traditional loyalty program, it's a great deal for fans of regular freebies.

However, this approach might not be for everyone. Some players, especially big spenders, might prefer loyalty schemes with escalating rewards based on their spending. While Monopoly Casino occasionally surprises players with treats, these are entirely at the discretion of the site. If you like the idea of a daily free game forever, then Monopoly Casino's rewards are right for you.
Monopoly Casino VIP & Loyalty rating: 8 / 10
Monopoly Casino Product Review
Monopoly Casino is incredibly user-friendly, especially for beginners. You can easily find your favourite games using the search bar or explore new ones by scrolling through the slots page. Joining is a breeze, thanks to the smooth registration process that gets you started in minutes.

The site features 10 bingo rooms with ticket prices ranging from free to 25p, catering to all budgets. Whether you prefer low-cost games or high-stakes action, there's a room for you. Some rooms are cosy with just 10 or 15 players, while others can host up to 1000 for a big game. What's great is that there are free games available all day, every day, adding to the excitement. After enjoying the welcome bonus, diving into these games is the natural next step.

Our experience on this site was fantastic. Finding games was easy, the community was friendly, and the chance to win real cash prizes made it unforgettable. We appreciated the site's care for its players, evident in the option to choose between free spins and bingo tickets for the welcome offer.
Monopoly Casino Product rating: 9 / 10
Monopoly Casino Branding Review
Monopoly Casino's design has a familiar charm, echoing the classic Monopoly board game. The colour scheme of navy blue and white creates a smart, polished look. What stands out is the subtle incorporation of Monopoly elements; the game's iconic symbols are cleverly integrated into the site, giving it a unique touch. As players, we really liked these nods to the board game; it feels nostalgic and gives the site a unique personality.

The layout is straightforward, making it easy to navigate, especially for players like us who prefer simplicity. The site isn't overly flashy; it has a standard, user-friendly appearance and everything is where you'd expect. It offers a comfortable and enjoyable experience for just about every kind of player, whether you love bingo or casino. The attention to detail, like the Monopoly-themed artwork and the property colour tabs, adds a nice little sense of personality. It strikes a balance between nostalgia and modernity, making it a site we found both visually appealing and easy to use.
Monopoly Casino Branding rating: 9 / 10
Monopoly Casino User Experience Review
Playing on Monopoly Casino has been completely hassle-free the entire time we played. Both the website and the app are easy to use, making it super easy to find your way around. Whether you're a seasoned online gamer or a beginner, finding what you're looking for on the site is simple. Games, rooms, and promos are well-organised, allowing you to jump into your favourites or explore new ones with ease. For newcomers, a bit of exploration might be needed as the site offers a lot, but it's easy to see what's on each page, as they are clearly titled and neatly laid out. The main app and homepage showcase games and ongoing promotions, and slot games, bingo, promotions, and more are just a click away via the header bar or the menu. FAQs and answers are easily accessible too. Monopoly Casino offers a dependable platform, ensuring players can effortlessly enjoy the games they love.
Monopoly Casino User Experience rating: 9 / 10
Monopoly Casino Rooms Review
Virgin Games offers a nice variety of bingo rooms, and our time there was really enjoyable. With a total of 10 rooms and 8 open for general play, there are a few choices, though not as many as some competitors. Some games, called Superlinks, are linked with other sites on the network to offer bigger games with bigger prizes. We especially liked playing in the Bingo Times room, where free bingo games happen several times an hour. Another favourite was the Bingo 80 room, with its cool retro 8-bit theme, giving a fun twist to the on-screen ball calls.

What's really great is the availability of free and penny games all day long, making it affordable for everyone. Even the most expensive tickets we found were just 25p, so it's very easy on your wallet. There are rooms with different themes to suit different tastes, and the low-cost games mean there's something for every player.
Monopoly Casino Rooms rating: 8 / 10
Monopoly Casino Best Bingo Rooms
Session Bingo - In Session Bingo, you purchase a bundle of tickets for 15 games. The games include a mix of 90-ball, 80-ball, and 75-ball, offering a diverse experience with different bingo styles. It's a unique way to enjoy various games and adds some excitement to the mix.

The Special Cloud Bingo - this room holds a weekly event happening every Friday night. It offers a guaranteed jackpot prize, and players can buy tickets in advance all week, creating plenty of excitement leading up to the game night!

Bubble Up Bingo - This 90-ball game features a cute theme and offers a Double Up Bonus if you win on a double number! Plus, if you win the house on number 7, you get a chance at the big Super 7 Jackpot on top of your regular prize.
Monopoly Casino Chat Review
Bingo Times - this room has free bingo several times an hour, and those games get especially busy. A chat host started players off in a fun game, which was very appreciated.

Bubble Up Bingo - players were actively chatting, sharing their excitement and using plenty of emojis as the game progressed. This lively atmosphere was a pleasant change from quieter bingo sites we've experienced before.

Superlinks 75 - this room was filled with friendly chatter. Players greeted each other warmly, discussing topics like the weather and their latest TV show binges. It was really nice to see conversations go beyond just basic good luck wishes, making the room feel very warm and sociable.
Monopoly Casino Games Review
Monopoly Casino offers a few types of bingo games: the classic 90-ball, 80-ball, and 75-ball versions. Even though the choices are limited, the site focuses on making these games great and the rooms high-quality. People really enjoy the classic 90-ball bingo, and the 80-ball and 75-ball games give some variety for players looking for something different.

Even though we wished for more options like a speedy 30-ball bingo room, the ones they have are fun and easy to play. Here are the three types of bingo games:
90-Ball - This is the traditional UK bingo game where you win prizes for one line, two lines, and the full house. For extra fun, check out the Bubble Up Bingo room, which has a cool theme, jackpot prizes, and lively chat.

80-Ball - In this version, played on a 4x4 grid of 16 numbers, you can win prizes for one, two, and three lines, as well as the full house. Give it a try in the Bingo 80 room, which has a fun retro video game theme.

75-Ball - This popular American variant uses a 5x5 grid of numbers. You can play it in the Superlinks 75 room, and prizes can be for lines, patterns, or a coverall.
Monopoly Casino Games rating: 7 / 10
Monopoly Casino Jackpots
Monopoly Casino's bingo games get even more thrilling when you consider their jackpots. Every room offers regular prizes for lines and full house wins, but what makes it really exciting are the progressive jackpots, often going up to thousands of pounds. Dreaming about winning these big prizes adds to the fun, and who knows, we might even win one day!

Some rooms, like Bubble Up Bingo, have special bonus jackpots. These bonuses are given for cool things like winning on a double number or a number 7. These extras bring extra joy to an already exciting win.

We really liked that every room has a chance for a progressive jackpot, and the extra prizes like the Super 7 bonus make the games even more fun. The opportunity to win both regular and huge progressive jackpots keeps us coming back to Monopoly Casino.
Monopoly Casino Jackpots rating: 8 / 10
Monopoly Casino Penny Bingo
Penny bingo at Monopoly Casino is a fantastic way to play bingo without breaking the bank. You'll find penny tickets in the Bingo 80 room every hour, on the hour. The games in between have tickets that cost a little more, but you can expect penny bingo every hour. This means you can have a great time playing these affordable games, even if you're on a tight budget.

We really appreciated that penny games were available throughout the day, allowing us to enjoy bingo without worrying about spending too much. These games give us plenty of opportunities to play for cheap, making Monopoly Casino accessible for everyone, including players who prefer low-stakes games. Penny games are also perfect for new players, as they give you the chance to experience bingo and see how it works without staking a tonne of money.
Monopoly Casino Penny Bingo rating: 8 / 10
Monopoly Casino Side Games Review
Monopoly Casino offers just 5 mini games in its bingo rooms, giving players a small but enjoyable break between bingo sessions. Although the number is limited compared to the slot games in the Games section, these mini games provide some entertainment during bingo breaks.

Compared to other sites on the same network, the selection is disappointingly small. However, despite the limited choices, these games are fun and easy to use, accessible via a panel on the left of your bingo room. A handy feature is the ability to close the mini games panel if you're not interested, something lacking on many other sites.

For more game options, the slots page offers a wider selection. Despite the limited choices in the bingo rooms, the mini games on Monopoly Casino still manage to add some fun to the experience.
Monopoly Casino Slot Games Review
We had a great time exploring the slot games on Monopoly Casino. With thousands of games to choose from, finding the right one was surprisingly easy. The New and Featured sections helped us discover recently-released and popular games, making the selection process much simpler.

Playing the slots was a lot of fun. The games ran smoothly, and the graphics and sounds were sharp. We liked the variety of themes and bonus features to choose from, which added excitement to every spin. It was clear that the site aimed to cater to a wide audience by offering as many options as possible.

Overall, our slot game experience was really positive. With a user-friendly interface, varied game options, and thrilling gameplay, our time on Monopoly Casino's slots was thoroughly enjoyable. Whether you're a casual player or a dedicated slot enthusiast, the site offers a satisfying gaming experience.
Monopoly Casino Top Slot & Games
Aloha! Cluster Pays
Forget complicated paylines- to score a win in this slot, just have 9 or more matching symbols grouped together! The Sticky Win Re-spin feature triggers randomly, keeping you on your toes, and the beautiful island setting will make you feel like you're in paradise.
Chilli Heat
It's time for a fiesta! Spice things up with this Mexican themed slot featuring chihuahuas, habaneros, and tequila. Trigger the Money Respin feature and you'll get three spins, but each time a moneybag symbol lands on the board, your three spins are refreshed so you can keep spinning. Win for every moneybag you land, but if you get all 15, you'll bag the Grande Jackpot!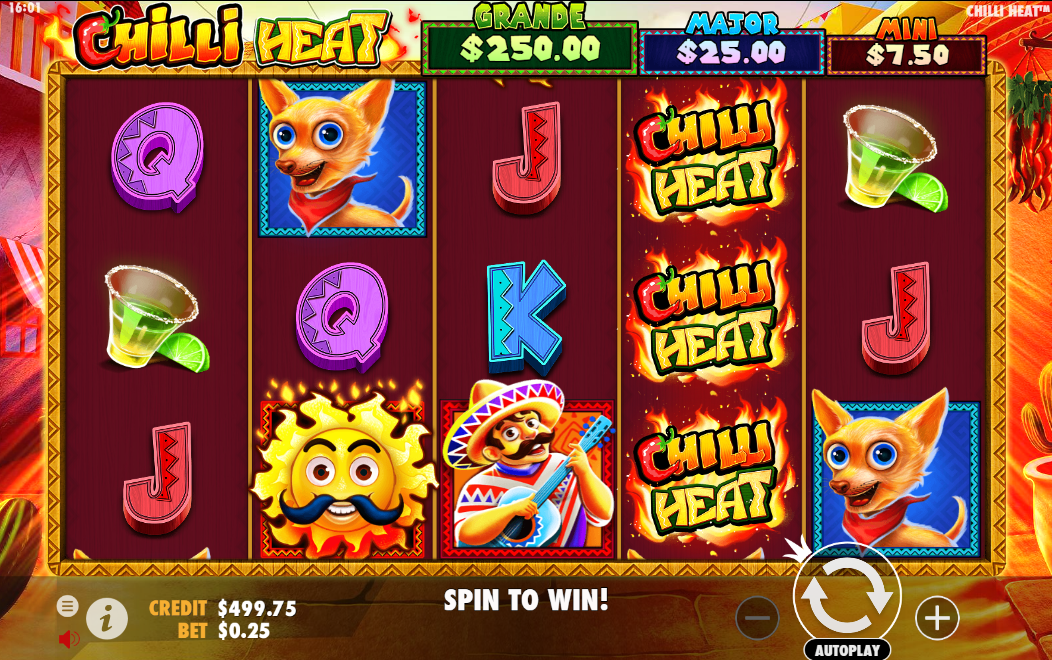 Gonzo's Quest
Join Gonzo on his quest for gold, and discover your own riches with this beautifully-designed slot. Make a match and the symbols will fall away, letting new ones drop into place for cascading wins. The wins will multiply each consecutive drop of the avalanche!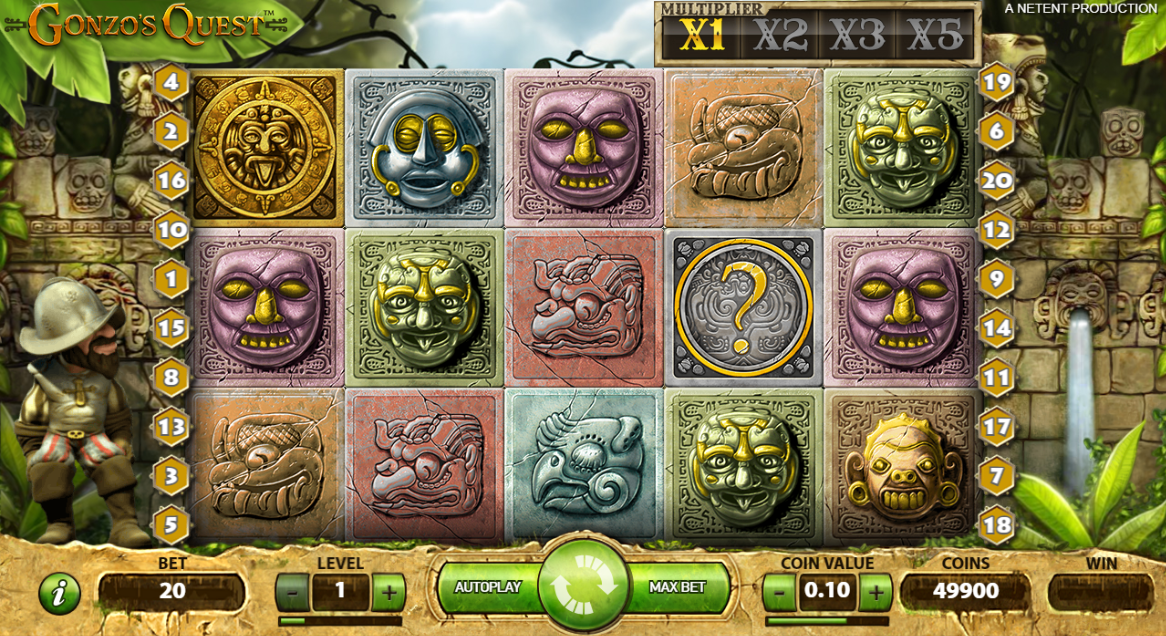 Wolf Gold
The wilds of the desert await; match eagles, cougars, bison and more as you hope for a win. Trigger bonus rounds like the Money Respin feature, Free Spins, and unlimited respins during the free spins bonus round.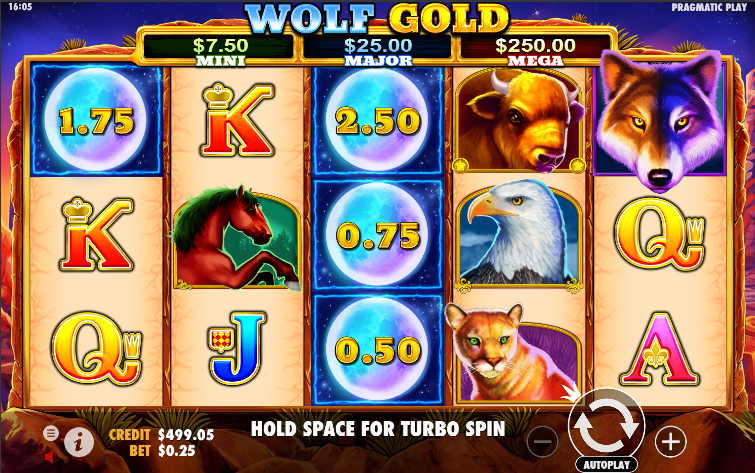 Monopoly Casino Additional Games rating: 9 / 10
Monopoly Casino Mobile and App Review
Playing Monopoly Casino on mobile was smooth and hassle-free when we used both the website and the app. The mobile site was easy to navigate, with clear menus and buttons that made finding games effortless. Games loaded quickly, and the graphics were sharp, providing an excellent gaming experience.

The app was convenient for playing on the go, allowing us to access our favourite slot games directly from our mobile devices. However, bingo is not available on the app; it's for slot games only. The app's layout was straightforward, not dissimilar to the website's design.

Our overall experience with Monopoly Casino when playing on mobile was positive, although it was disappointing that bingo wasn't included in the app. Both the website and the app were user-friendly and performed well, making gaming on the go easy and enjoyable.
Monopoly Casino Mobile rating: 8 / 10
Monopoly Casino Responsible Gambling
Monopoly Casino takes responsible gambling seriously and offers important tools to assist players:

1. Self-assessment questions - Reflect on your gambling habits with these insightful questions to determine if you are still happy with your level of play.

2. Setting banking limits - Stay within your budget by setting deposit limits for the day, week, or month. This will help you manage your spending.

3. Session reminders - Handy alerts track time, and give you a pop up reminder of how long you've been playing. This is designed to break immersion and remind you to take a break, preventing excessive play.

4. Transaction history - You can always see how much you've deposited, wagered, and withdrawn, so your finances will be transparent. This is to give players the power to manage their own budget easily.

5. Cool-off option - Take short breaks by blocking your account temporarily. You can cool off for 24 hours to 6 weeks, during which time you will not be able to log in or play.

6. Self-exclusion - This is the strictest measure for players who do not want to be able to access the site. You can lock your account for up to five years, and you cannot access it until the self exclusion period has expired.

These features highlight the site's commitment to player safety and responsibility. Monopoly Casino's dedication to a secure gaming environment is reassuring. These tools empower players to manage their play or seek help when needed, ensuring a positive and secure gaming experience.
Monopoly Casino Responsible Gambling rating: 8 / 10
Monopoly Casino Banking Review: Available Payment Methods
Monopoly Casino allows a minimum deposit and withdrawal of £10, which is reasonable for many players and is to be expected for a casino site. However, the payment methods are limited to Visa Debit, Mastercard, and Apple Pay, which might feel restricting. While these options are trustworthy, some players might miss the flexibility of methods like PayPal, which used to be available but isn't anymore.

Although the £10 minimum is fair, the lack of common payment choices could inconvenience users. More options would make the site more user-friendly. A variety of payment methods ensures players can pick what suits them best. Without choices, players might not be able to join if the available options don't fit their needs.
Available Payment Methods:
| | |
| --- | --- |
| Maestro | |
| Visa Electron | |
| Visa | |
| Master Card | |
| Apple Pay | |
Monopoly Casino Payment Methods rating: 7 / 10
Monopoly Casino Banking Review: Depositing
Depositing money on Monopoly Casino was straightforward, although the options were a bit limited. Only Visa Debit, Mastercard, and Apple Pay are available, which might disappoint those looking for more variety. Surprisingly, even PayPal isn't accepted! However, these are reputable providers, ensuring the safety of your money and details when you deposit.

While some sites allow a minimum deposit of £5, Monopoly Casino's minimum of £10 is standard and fair, especially as it is enough to qualify you for the welcome offer. Once you've deposited and wagered this amount, you can start playing with your bonuses right away. Despite the limited choices, the deposit options are secure and widely used, providing a safe process for players.
Monopoly Casino Depositing rating: 7 / 10
Monopoly Casino Banking Review: Withdrawals
Withdrawing money on Monopoly Casino is easy, but you should be aware of things like the minimum and maximum amounts, and the time you should expect the transaction to take. You can use Debit Card or Apple Pay, but it must be the same method you used to deposit. The minimum withdrawal of £10 is standard for UK casinos, and the maximum limit of £250,000 is quite high for big wins. The processing time is quick, taking 4-24 hours. However, you will have to wait an additional 1-3 working days for the money to reach your account. It's not the longest wait we've seen, with some competitors taking more than a week, but it certainly could be faster; we've seen sites offering withdrawals in under an hour.

In our experience, the process was simple, but the waiting time could be improved for a smoother experience. Although the options are safe, as with deposits, you are somewhat limited with only debit card and Apple Pay available. Despite this, the service is dependable, ensuring you receive your winnings securely.
Monopoly Casino Withdrawing rating: 7 / 10
Monopoly Casino Customer Service Review
Getting help on Monopoly Casino was really easy. They offer an online form for emailing them, and there's a live chat option for faster help. Plus, there are lots of answers in their FAQs section.

When we used the live chat, we were connected to someone instantly. The support staff were friendly and helpful both times we asked a question. If they didn't know the answer, they went and found out, which was great. Unlike some sites where it feels like you are being brushed off with a generic answer, the staff here were quick, thoughtful, and detailed in their responses. Their service made our experience on the site much better and gave us confidence that if we ever had an issue on Monopoly Casino, we'd be helped swiftly and efficiently.
Monopoly Casino Customer service rating: 9 / 10
Monopoly Casino Available Support
| | |
| --- | --- |
| Email Address | Online Form |
| Live Chat | Yes |
Conclusion
Our experience at Monopoly Casino was fantastic! The site's nostalgic board-game themed design and easy-to-use layout created a fun place to play. We enjoyed a variety of games, from classic slots to exciting bingo, providing endless entertainment and chat in the bingo rooms. The customer service was exceptional; the support team was quick and helpful, making us feel valued. Navigating the site was a breeze, ensuring a smooth gaming experience. A standout feature was the free daily game; playing for free felt great, and knowing it's available every day is even better. Additionally, the site's generous promotions, including free spins and cashback, added to our excitement. Overall, Monopoly Casino offers a fun and secure platform. Its engaging games, friendly customer service, and exciting free daily games make it a top choice for players seeking an enjoyable and thrilling online casino.
Monopoly Casino Overall rating for Monopoly Casino: 8 / 10