Sun Bingo: A Review of Offers, Bonuses and Promos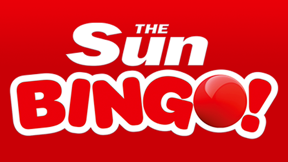 Get £50 Bingo Bonus plus 50 Free Spins when you deposit & spend £10
Deposit from just £5
Lots of payment options
Free and penny bingo
Good welcome offer
18+. begambleaware.org. New customers only. Deposit £10 for 50 free spins on selected games (Accept & wager winnings 30x within 48hrs) & spend £10 on bingo tickets for £50 bingo bonus (Accept & wager bonus 4x within 7 days). Debit cards only. Offer Ends 31/08/2023. T&Cs apply.
Sun Bingo Review Intro
Recently revamped and looking better for it, Sun Bingo is a site on Playtech software that lets you enjoy bingo, slots, and more! Linked to the Sun tabloid newspaper, this site is bright and bubbly, and we found it easy and enjoyable to use. With daily freebies (yes really), a huge brand name, and promotions giving away hundreds of thousands of pounds, Sun Bingo is a good choice for players who want a friendly, lively site. However, according to our members at BingoPort the preference is for Costa Bingo if you're looking for a new bingo experience with great promotions and bonus.
Our Sun Bingo Review Score
When we review a site, we consider lots of different aspects, so you get the full picture. We even include an overall score, so you can see our verdict at a glance.
| | |
| --- | --- |
| Overall Score | 7 / 10 |
| Welcome Offer Rating | 8 / 10 |
| Existing Player Promotions Rating | 7 / 10 |
| VIP & Loyalty Rating | 6 / 10 |
| Product Rating | 7 / 10 |
| Branding Rating | 8 / 10 |
| User Experience Rating | 7 / 10 |
| Bingo Rooms Rating | 7 / 10 |
| Bingo Games Rating | 8 / 10 |
| Additional Games Rating | 7 / 10 |
| Mobile Rating | 7 / 10 |
| Responsible Gaming Rating | 7 / 10 |
| Jackpots Rating | 8 / 10 |
| Penny Bingo Rating | 6 / 10 |
| Payment Methods Rating | 8 / 10 |
| Depositing Rating | 8 / 10 |
| Withdrawing Rating | 6 / 10 |
| Customer Support Rating | 7 / 10 |
Sun Bingo Pros & Cons
Here's the need-to-know when playing on Sun Bingo:
Deposit from just £5
Lots of payment options
Free and penny bingo
Good welcome offer
Bingo lobby isn't as modern as some competitors
Loyalty scheme isn't great at lower levels and only applies to bingo games
Sun Bingo New Customer Welcome Offer
Get £50 Bingo Bonus plus 50 Free Spins when you deposit & spend £10
18+. begambleaware.org. New customers only. Deposit £10 for 50 free spins on selected games (Accept & wager winnings 30x within 48hrs) & spend £10 on bingo tickets for £50 bingo bonus (Accept & wager bonus 4x within 7 days). Debit cards only. Offer Ends 31/08/2023. T&Cs apply.
Sun Bingo Offer Breakdown
Sun Bingo's new player welcome bonus is pretty decent. It's a bonus match and spins combo, which we love to see; it gives players the opportunity to try out both bingo and slot games. It's worth noting that although the minimum deposit on the site is £5, you'll need to deposit £10 if you want to claim the first deposit offer. You'll get the free spins when you make your deposit, and the bonus will come once you've wagered £10 on bingo. The free spins are for a choice of 9 slot games, three of which are Age of the Gods. Not a lot of big titles in the selection, but when they're free, who's complaining?
Sun Bingo Welcome Bonus Our Verdict
The welcome offer on Sun Bingo is pretty good. £50 bingo bonus on a £10 deposit is definitely higher than a lot of competitors are offering, with lots of sites giving only a straight 100% match.

The fact that free spins are thrown in too is great, though the selection of slots you can use them on is a little limited. Still, they're fun games if you're willing to give them a go, and we even won a little when we played them! Not convinced, check out the Sun Bingo's sister sites for more great offers on similar sites.
Sun Bingo Welcome offer rating: 7 / 10
Using The Sun Bingo Welcome Bonus
Sign up to Sun Bingo by entering your personal detailsChoose a username and password for your accountYou may need to verify your details here, by submitting a picture of your IDOnce you're logged in, go to the cashier to deposit (don't forget the offer is £10 min)You'll get your free spins instantly, and if you wager £10 on bingo, you'll get the bonus too
Not sure where to wager your £10 in order to unlock your bonus? Well, you need to wager it on bingo, so why not check out the Rapid Room to get off at a sprint? If you'd like something slower paced to catch your bearings, what about Deal or No Deal Bingo? Once you've wagered your £10+, your bingo bonus will be available in the bingo lobby.

Sun Bingo Welcome Bonus Terms
18+. begambleaware.org. New customers only. Deposit £10 for 50 free spins on selected games (Accept & wager winnings 30x within 48hrs) & spend £10 on bingo tickets for £50 bingo bonus (Accept & wager bonus 4x within 7 days). Debit cards only. Offer Ends 31/08/2023. T&Cs apply.
Sun Bingo Free Bingo & Newbie Rooms
Sun bingo has a free bingo room! Just what we like to hear. The Cabaret Room has free bingo in amongst paid games, so keep an eye out for those! The quickest way to see when free or cheap bingo is available is to use the 'sort' function in the lobby, and sort by price. Watch out for those free games popping up!
Newbie Rooms

The newbie room on Sun Bingo is called the Learner Room. Not the catchiest title, but nice that there's a room for beginners and new members to enjoy. The room is available for seven days after you join, and the games are free. Prizes range from about £4-7 which isn't a lot, but that's somewhat to be expected for a free game. At least the room isn't completely packed; seeing about 20 or so players in a free room is quite reasonable.
More Sun Bingo Welcome Offers
Sun Bingo only has one welcome bonus, as its predominantly an online bingo site. They do have slots and games attached, so to give players the chance to try both bingo and slot games, it's very much a one-size-fits-all welcome offer. If you only like one or the other, why not give both a try? It's free after all, and you might discover a new way to play that you never tried. And even if you don't love it, you might win something!
Sun Bingo Technical Specifications
| | |
| --- | --- |
| Site Name | Sun Bingo |
| Software | Playtech |
| Welcome Offer | Get £50 Bingo Bonus plus 50 Free Spins when you deposit & spend £10 |
| No Deposit Bonus | None |
| Free Bingo | Yes |
| Promotions | Yes |
| Min. Deposit | £5 |
| Min. Withdrawal | £5 |
| Deposit Methods | |
| Established | 2005 |
| UK Gambling Commission | License number 45110 |
Sun Bingo Review: Existing Player Promotions
The promotions page on Sun Bingo is well stocked. There are quite a few daily offers and competitions, which is nice as longer promotions can eventually feel a bit wearing. A few of the promotions are actually just adverts for the bingo schedule, but there are plenty of prize giveaways and deposit offers to try out. Personally, we love a good prize wheel, so seeing one that's available every single day was a delight!
Daily Prize Wheel. There's something just so good about spinning for a mystery prize! With the chance to spin every day for free, and bingo, spins, cash, or a £100 top prize on the line, this wheel was a lot of fun.
Mega Spin-Go. Another prize wheel, this time with bigger prizes. All you have to do to qualify is deposit and stake a tenner the previous day. The top prize is the same as the other wheel- £100.
Free Spins. This is a typical opt in-deposit-stake promotion. If you opt in, deposit £10, and stake £20 on the selected games, you get 10 free spins. Freebies are nice, but this seems like a big ask for just 10 free spins.
Sun Bingo Existing Player Promotions rating: 7 / 10
Sun Bingo Review: VIP & Loyalty
Sun Bingo does have a loyalty scheme, and it's available from the moment you join, though you do really have to work your way to the higher levels for it to give much back. When you first join, you're Opal level. Every £1 cash you spend on bingo earns you 8 points, and 700 loyalty points buys you a single pound in bingo bonus. That's £87.50 wagered on bingo before you get £1 back! Once you hit 2,500 points, however, you'll move up to the next level, and your exchange rates do get slightly better. It's a shame that the points can only be accumulated on bingo bets; not great news for slots players. The wager to points to bonus ratio is also tighter than a lot of competitors' sites, but at least there is a loyalty scheme. It's more like a nice extra, rather than a loyalty incentive.
Sun Bingo VIP & Loyalty rating: 6 / 10
Sun Bingo Product Review
The good news is, the Sun Bingo site is very easy to use. There are a good number of tabs across the top, making finding what you're looking for very easy. Sun bingo games run all day every day, and in many rooms, the ticket prices vary from game to game, so things are always changing in the bingo lobby. The ticket prices go from free and 1p up to £2 a ticket, so there is quite a range. Once you've enjoyed your welcome bonus, be sure to check out Sun Bingo's Newbie room called the Learner Room. It's free bingo for seven days after you join, so make the most of your limited time in this room!

Whilst we do list a wide variety of Sun Bingo alternatives on our site, but we do feel that Sun offers a great product and is one of our recommended sites.
Sun Bingo Product rating: 7 / 10
Sun Bingo Branding Review
The design on Sun Bingo keeps the red and white branding of the Sun newspaper. It is a bright and bubbly looking site, and the banners are in a variety of colours; they don't just stick to the site colour scheme. This can be a little jarring, but the design of the banners is kept simple to avoid being overwhelming. We liked the little tokens informing players which bingo games are about to start; it's unusual to see this on a homepage. It does mean that you can quickly jump straight into a game and avoid missing the start!
Sun Bingo Branding rating: 8 / 10
Sun Bingo User Experience Review
Sun Bingo is pretty typical when it comes to finding your way around. You are somewhat limited as to which pages you can view if you're not logged in, but as soon as you enter your account details, you can see everything no problem. The best place to start is the bingo lobby! Once you're there, you can see all the upcoming games, browse and claim promotions, and even deposit thanks to the quick links. You'll be asked to pick a chat name that isn't the same as your account name, which is unusual, but apparently this is a security measure.
Sun Bingo User Experience rating: 7 / 10
Sun Bingo Rooms Review
One thing Sun Bingo is not short of is bingo rooms. There were 18 rooms available when we played, which is a very decent offering. A few of the rooms have linked games, but rooms like the Candy Room, Mystic Meg Bingo, Cabaret Room, and more can be found under the Exclusive tab, as they are unique to Sun Bingo. Tickets range in price from free and 1p up to a couple of quid per ticket for the bigger games. Most tickets fall in the 5p-20p range. The rooms can get busy, particularly the Cabaret Room if it has free or penny bingo on the go, with a few hundred players not uncommon. Still, this is a lot less than you'll find in the freebie rooms on other big sites like Mecca Bingo, for example. If you like themed rooms, there are a few based on slot games, as well as Deal or No Deal Bingo.
Sun Bingo Rooms rating: 7 / 10
Sun Bingo Best Bingo Rooms
Here are some of the bingo rooms we really enjoyed on Sun Bingo:
Cash CaveThis room had a big total prize of £130 when we played, which was split over 1 Line, 2 Lines, and House. This was a typical 90-ball game, but the tickets were only 2p (it was "2p Hour") and the jackpot was certainly impressive!
Cabaret RoomWe stopped in for a spot of free bingo in the sun bingo Cabaret Room. The prize for the whole game was £11 which is about average for free bingo. There were almost 300 people in the room, but sadly, no one was chatting! Only two players graciously posted "wd" when a prize was won; the rest of the chat was dead as a doornail. Still, free bingo is free bingo!
Rapid RoomHere, the bingo is fast and furious. The prize was £15 which seemed a little low for a 2p game, but the room wasn't all that busy in fairness. There was, however, a five-figure progressive jackpot available. The balls come out one per second, and it only took 12 balls before someone had a line! The whole game took under a minute, so it's perfect for those looking for a quick dab. Mystic Meg BingoThis fun room is themed all around horoscopes. Instead of numbers, the balls are horoscope symbols, and the background is a purple sparkly curtain. You are also treated to a variety of mystical sound effects! In this room, you choose your ticket price, but the more you pay, the bigger your potential prize will be!
Sun Bingo Chat Review
Mystic Meg BingoThis room was pretty quiet. With only 11 players when we visited, there was no chat going on at all. A chat host was listed as present, but no one spoke while we were playing. A little disappointing, but to be expected for a quiet room.
Candy RoomThis was by far the chattiest room we played in. The sun bingo chat host Megan piped up frequently, asking questions, congratulating winners, and wishing everyone luck. The players dropped comments about their progress, a few "well-done"s, and even a discussion about what's for dinner.
Small TalkThis is not a bingo room, but a chat channel. You can swap between chats without leaving your current bingo room, and Small Talk seems to be a channel designed for chat that is not linked to a specific room. Again, people were pretty quiet, but there were a few comments like "1TG" and "GL" being dropped.
Penny PressThis is the 1p room, and chat host JoJo was there wishing players luck. A couple of the players seemed to know each other, which was nice. There was even a chat game played! The chat host initiated a game called "Mr Tickle". Within a minute, an animation of an alien popped up on screen. He shouted out a player name, and the chat host confirmed whether the named player did or did not qualify for a prize.
Sun Bingo Games Review
There are a few different bingo variants available on Sun Bingo. Plenty of the rooms are your typical 90-ball, and there are three American-style 75-ball games as well. Sun Bingo does actually have a few other variants too, including 80-ball, 50-ball, 40-ball, and even 36-ball bingo.
90-Ball BingoThis is classic bingo. A ticket with 15 numbers on, and prizes for one line, two lines, and the full house. This bingo variant is the one most commonly played here in the UK. 30-Ball BingoThis variant can be found in the Winning Headlines room. Win a prize by matching a mix of numbers and symbols. You choose your ticket price, but the higher the price, the higher the potential prize. 80-Ball BingoThis game has a 4x4 grid and 80 numbered balls. It can often be pattern-based, much like 75-ball bingo, and the grid is colourful, with each column given a different colour. On Sun Bingo, generally there are prizes for 1, 2, and 3 columns, plus the full house.
Sun Bingo Games rating: 8 / 10
Sun Bingo Jackpots
The jackpots on Sun Bingo do vary a lot. Smaller jackpots could be as little as £6 for games like penny bingo, although many prizes do increase the more players buy in. Bigger game prizes can be around £50, though some rooms (like Cash Cave) do get up into the hundreds. There are also progressive jackpots in each room with huge prizes going up into the thousands and even tens of thousands.
Sun Bingo Jackpots rating: 8 / 10
Sun Bingo Penny Bingo
Penny Bingo is held in a couple of rooms on Sun Bingo. Penny Press is the dedicated penny bingo room, and its prizes tend to be around £10. With the number of players hovering around 100, it's a busy room, but surprisingly, it's usually not the busiest room on the site. Cabaret Room also has occasional penny bingo games, so watch out for those too.
Sun Bingo Penny Bingo rating: 6 / 10
Sun Bingo Side Games Review
Side games are available when playing in the Sun Bingo rooms! Slot games, jackpot games, and scratch card games can all be enjoyed without leaving your bingo game, and there are popular titles like Rainbow Riches and Fluffy Favourites available. They take up a quarter of the screen on desktop, so don't block your view of the game, your cards, or the chat. There are 25 slots, plus other games, so quite a few to choose from.
Sun Bingo Slot Games Review
Surprisingly for such a big site, Sun Bingo doesn't have that many slot games compared to its competitors. With around 120 slot games available to play from the bingo lobby, this collection definitely ranks on the small side. There are some good games here, with Eyecon classics like Shaman's Dream and the Fluffy Favourites collection- in fact, out of 123 slots, 9 of them are Fluffy Favourites titles! There are more slot games available in the 'Slots' section of the site, outside of the bingo lobby, but some big titles like Starburst and Rich Wilde Book of Dead are sadly missing. Fine, if you just fancy a few spins on whatever looks good, but slot aficionados may very well be disappointed on this site.
Sun Bingo Top Slot & Games
Shaman's DreamThis classic slot is very popular, and its peaceful artwork makes it enjoyable to play. Native American symbols like an eagle, a bear, and a totem pole fill the reels, and the wolf symbol is wild. The dreamcatcher is the scatter, and landing three of them will launch 15 free spins with tripled wins.
Piggy PayoutWin up to 400 free spins with a 2x multiplier on this farmyard slot, and if you get the Prize Pick feature, you could win up to 100x your bet. This slot is sure to keep you a-moo-sed until the cows come home.
99 Time
A jolly day out to the seaside is in order, as well as some wins of course! Spin the reels full of colourful whippy ice creams, and look for a win across 25 paylines. Trigger the Ice Cream Maker feature by getting three 'Ice Cream Man' symbols anywhere on the board, and get free spins when you get three or more van symbols.
Fluffy in Space
There are some great bonus features on Fluffy in Space. Three or more scattered planet symbols will launch 8 free spins, but during the free spins, landing three planets will retrigger an additional 3 spins each time. There is also the Fluffy in Space bonus feature; land as many elephant symbols as possible, and watch them turn into multipliers on your win.
Sun Bingo Additional Games rating: 7 / 10
Sun Bingo Mobile and App Review
There is a Sun Bingo mobile app, and with 100,000+ downloads, it seems to be a popular choice. The app is easy to use, and is built much like other popular bingo apps, with a homepage, buttons along the bottom to navigate you around, and a larger menu that can come out for more options.

The Sun Bingo app can be downloaded on mobile and tablet, and is available in the Apple App Store and the Android Play Store. As with most bingo and slots apps, it will eat through your data, so Wi-Fi is advised, though it will work just fine on data, providing you have a stable connection.

Sun Bingo does allow prebuying tickets, so many players enjoy buying tickets in advance to play later, often on their laptop once they get home.
Sun Bingo Mobile rating: 7 / 10
Sun Bingo Responsible Gambling
Sun Bingo's responsible gambling page sits on the nav bar at the top of the page, showing that they take safe gambling seriously. They provide "Smart Tips" on playing safely, as well as advice like 'play for fun' and 'don't drink and gamble'. There are tonnes of suggestions on here, so there is likely to be something that applies for every player. All the usual safeguarding tools are available too:

Reality Checks – keep track of how long you've been playing and break your immersion with these pop ups.Cool Off – not as permanent as self-exclusion; just take a break for a while.Deposit Limits – cap how much you deposit at once and in total.
Sun Bingo Responsible Gambling rating: 7 / 10
Sun Bingo Banking Review: Available Payment Methods
Depositing on Sun Bingo was super simple. Just tap 'deposit', choose your deposit amount, enter your payment details, and you're done!
Available Payment Methods:
| | |
| --- | --- |
| Money Bookers / Skrill | |
| Maestro | |
| Visa Electron | |
| Visa | |
| Master Card | |
| Paypal | |
| Paysafe card | |
Sun Bingo Payment Methods rating: 8 / 10
Sun Bingo Banking Review: Depositing
There are a decent number of payment options on Sun Bingo, though generally it sticks to the basic ones. You won't find strange and unusual Crypto or online transfer methods here. This is likely to be a safety thing; sticking to big, reputable payment methods means Sun Bingo can more confidently keep players' transactions safe. The sun bingo minimum deposit is just £5, which is the lowest you'll see on a UK site. However to earn the welcome bonus, you will have to deposit and spend £10 for your first deposit. The maximum deposit amount per transaction is £1,000.
Sun Bingo Depositing rating: 8 / 10
Sun Bingo Banking Review: Withdrawals
Sun bingo withdrawals are available through debit card, BACS /Fast Bank Transfer, Skrill and Paypal, though not Paysafecard, as these are deposit vouchers only. The minimum withdrawal amount is £5, same as depositing. The maximum withdrawal is £50,000, or £5,500 via PayPal. Withdrawals typically take a few days, though the site doesn't commit to a specific number, and some payment methods could take up to 14 days. This is definitely on the slower side, but hopefully taking the full 14 days is rare.
Sun Bingo Withdrawing rating: 6 / 10
Sun Bingo Customer Service Review
When you first access the live chat support, you will be greeted by Sunny, the virtual assistant. Sunny can answer basic questions and find answers for you from the FAQs, but if you need more complex help, simply type 'agent', and Sunny will find you a real chat support agent who can help. When we accessed the live chat, there was just one customer in the queue ahead of us. Despite this, it took 7 minutes for us to be connected with a support agent. That must have been a complicated issue that the player before us was having! The support agent was quick to answer our query, and was polite to speak to.
Sun Bingo Customer service rating: 7 / 10
Sun Bingo Available Support
| | |
| --- | --- |
| Phone Number | 0800 083 1988 |
| Email Address | Form on the site |
| Live Chat | Yes |
Conclusion
Overall, Sun Bingo is fun, friendly, and has an upbeat feel. The branding clearly links it to the Sun newspaper, and the selection of bingo games is great.
Sun Bingo Overall rating for Sun Bingo: 7 / 10