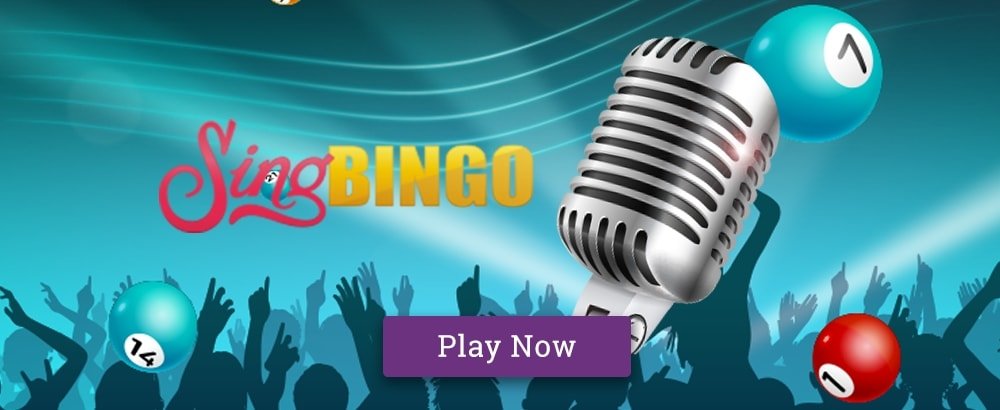 Whether we admit it or not, there are plenty of us out there who will have a cheeky singalong to our favourite tunes while playing bingo. There's no reason for this to be a hidden guilty pleasure, though: one site is encouraging all of us to belt out a song into our hairbrushes to celebrate every full house. The name of that site? Sing Bingo, of course!
Any seasoned bingo player, however, will know that it takes more than an inspired theme to make a great site: you'll need to check out whether it has some of the best bingo promotions, as well as how its selection of bingo games and slots are shaping up. If you're wondering how Sing Bingo performs on these fronts, then you're in luck: BingoPort has done the legwork for you. Read on for everything you need to know about Sing Bingo, so you can make an informed decision before joining.
Welcome Bonus Package
A great welcome bonus package is always a huge plus for new players, and helps the site to prove right from the off that it's a warm and hospitable place to play. To check out what Sing Bingo has on offer, head over to their site.
Pros
Interesting new bingo variants
Huge selection of slot games
Great VIP scheme
Cons
Bottom Line
If you're after a bingo site that's all killer, no filler, you'll find exactly what you're looking for at Sing Bingo.
In depth
Banking
Placing deposits
As we've come to expect from any decent bingo site, Sing Bingo welcomes a wide variety of payment methods. That means you aren't restricted to the standard credit and debit cards, and have the choice of payment options as varied as Entropay and Neteller.
By phone
Credit card
Debit card
Entropay
Neteller
PayPal
Paysafecard
Making withdrawals
Sing Bingo stays on song when it comes to their withdrawal policy, with the minimum withdrawal amount set at a reasonable £5. As is typical for most sites, your funds will typically be returned to the card or account you used to make the initial deposit, provided you deposited via:
Visa credit card,
UK-based Mastercard,
Visa or Maestro debit card,
PayPal account, or
Neteller.
If you used a different method when making your deposit (Entropay, Paysafecard, or international Mastercard), you will receive your funds via wire transfer instead. Withdrawals will typically be completed within 5 business days for UK-based Mastercard, PayPal or Neteller withdrawals, within 7 business days for other credit/debit cards, and within 10 business days for wire transfers.
Games
Just as any great artist needs a good repertoire of songs to keep their audience entertained, any great bingo site needs a wide selection of games for players to enjoy. So, does Sing Bingo have the chops to deliver the goods? Yes! There's a huge variety on offer here: read on to check it out.
Bingo Games
Here at BingoPort, we're always on the hunt for sites which go the extra mile to keep things interesting for players by providing some innovative varieties of bingo—and we're pleased to say that Sing Bingo is one of them. This site isn't content to simply provide the 90-ball and 75-ball variants that dominate the UK and US bingo scenes respectively (though there are certainly plenty of chances to play these classics here!), and instead brings something new to the table.
First up, the site offers More Winners Bingo, which you may know better as 5-line bingo. If you haven't heard of the game, however, then you're in for a treat. This is a fast-paced game with 75 balls, and which gives you five ways to win—hence why Sing Bingo call it More Winners Bingo! Check out our guide to 5-line bingo to learn a bit more about it.
Sing Bingo haven't stopped there, though. They also add 52-5 Bingo to the mix: a relatively new version of bingo which involves marking off just 5 spaces on your ticket. The twist is that, instead of the standard bingo numbers, tickets have different visual themes. A variant on this is Sugar Vegas, a candy-themed variant which is good enough to eat!
Slot Games
Proving that they're more than a one-hit wonder, Sing Bingo have no fewer than 284 different slot games for you to try, with the roster being updated frequently to ensure there's always something fresh. Here are a few of our favourites…
Michael Jackson: King of Pop
Fittingly for a site that's all about the music (well, and the games), there's a slot on offer here dedicated to an all-time musical great: Michael Jackson. This 5-reel, 25-payline game comes packed with Moonwalk Wilds which help boost your chances of winning, alongside Beat It and Smooth Criminal free games. While we can't promise that this game will turn you into a pop superstar, you could walk away with some great prizes that will leave you feeling like you've topped the charts!
Olé España
If you're longing for a holiday, then this next slot could provide you with a bit of a much-needed sunshine from the comfort of your own home. That's right: Olé España transports you straight to Spain! In this 5-reel, 20-payline slot, you'll see some of Spain's most famous landmarks, with Barcelona's Sagrada Família acting as the game's Scatter symbol. You'll even hear a bit of flamenco music in the background when you spin the reels—you'll feel like you're there! Of course, if you win big on this game, you could be jetting off for real! Don't worry—as we covered in our bingo around the world article, bingo is popular in Spain, so you can still play abroad! ¡Buena suerte!
Xmas Cash
How about a slot with some real Christmas cheer, regardless of the time of year? Put on your Santa hat and fill your stockings with big prizes over at Xmas Cash! This slot keeps it simple and lets the cash do the talking: there are just 3 reels for you to pay attention to, each adorned with festive imagery such as the Christmas tree, Christmas pudding, and a jolly old snowman. Win big across the slot's 9 paylines, and you'll be wishing it could be Christmas everyday!
Casino and Other Games
Not content to offer unique bingo variants and 284 slots, Sing Bingo reveals that they have yet more strings to their bow: a selection of casino games, scratch cards and instant wins. On the casino front, you can choose between blackjack, roulette, baccarat, poker, keno and more, bringing Monte Carlo to your living room. Meanwhile, scratch cards such as Lucky Irish, Foxin' Wins Scratch and Cash Cuisine provide yet more ways to win. All in all, when it comes to games, Sing Bingo's selection is hard to beat!
Performance
There's no point in having a great selection of games if they're plagued by a host of performance issues—but, thankfully, we're pleased to report that this won't be a problem on Sing Bingo. Running on industry-leading Dragonfish software, you're assured of great loading times and games that are always up.
Mobile
Love to play on the go? So do we! That's why we're especially thrilled to announce that Sing Bingo's mobile performance is just as on song—fast loading and no crashing are the orders of the day. It's worth noting, though, that you need to be logged in to see some of the site's features on mobile. Of course, if you're anything like us, you'll be rushing to sign up, so this won't be a problem!
Support
While players can expect not to encounter too many problems on Sing Bingo, it's good to know that the team is there to help out should you hit any snags. You can contact Sing Bingo via any of the following methods:
Phone (UK): 0808 238 7567
Phone (Int'l): +1 268 484 4827
Live Chat: Available on site
Extra features
Just when you thought the show was over, Sing Bingo comes back on stage for an encore! That's right: there are even more features for us to highlight on this super site. For starters, there's a great Refer a Friend scheme on offer here—after all, we all need a duet partner, and it's fantastic to be rewarded for playing bingo with friends!
The site also goes out of its way to highlight the importance of community to a bingo site—something we here at BingoPort also really value, going so far as to give an award for the Best Bingo Community at our annual Players' Choice Awards. You can see all the latest lucky winners over at the site's Winners page.
You'll find regularly updated promotions on site, as well as a VIP scheme which provides players with benefits such as free spins, bonus cash, merchandise and (for players who reach the elite Platinum tier) exclusive products. There are also special bingo rooms reserved for VIPs—think of it as your very own backstage pass!
With so much positivity, it is worth noting that Sing Bingo does hit one bum note: once active, its social media presence appears to have died off in late 2016. Nonetheless, there have been a couple of photos uploaded to the site's Facebook page since then, so we're still holding out hope for a comeback tour!
Final Comments
If you're a fan of innovative new games, a huge selection of slots and a killer theme, then this is one gig you'll definitely want to buy tickets to. In our view, Sing Bingo has definitely made an impressive debut, and we won't be surprised to see them climbing the charts in the near future!
If you love Sing Bingo, why not try:
Recent Videos
Member Reviews